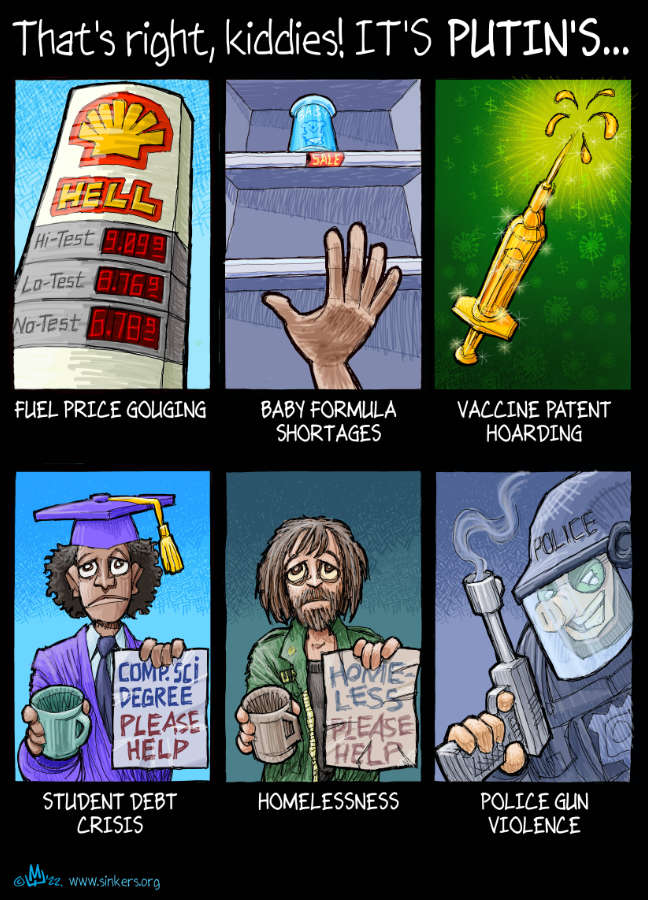 Gropin' Joe has made it abundantly clear at the AFL-CIO convention a week or so back that he plans to beat that "Putin's Price Hike" horse until it's either dead or people actually start believing that horseshit. We promised Gorbachev we wouldn't expand NATO, then promptly spent the better part of the 1990s expanding NATO to Russia's front stoop and fomenting pro-US regime-change "color revolutions", but yeah, sure, Joe — it's Putin's war. Sonofabitch plans on distracting us from his horrid performance and our wartime austerity pain by blaming Putin for everything but the Mariners dragging ass in the AL West.
So — you heard it here first, kiddies. Supreme Court just stripped your reproductive rights? Putin made 'em do it. That asshole boss at Starbuck's who just canned you for union organizing? Putin did it.  Those pals of yours who promised to help move that sofa last Saturday flaked on you? Putin. That raging hottie you've been dating for the past 2 months just put you in the Friend Zone? Yeah, that's right, my dude — fucking Putin.
Dude's been one busy motherfucker lately, gotta give credit where it's due.
12.25 x 17 inch medium-res color .jpg image, 787kb