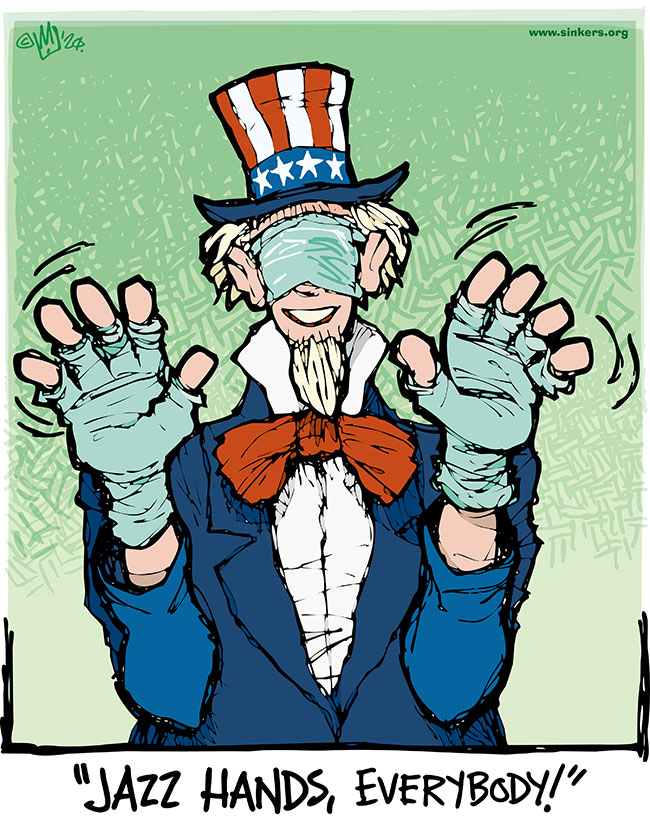 JEEEzus H.W. motherfucking CHRIST. Motherfuckers came right out and said it — "We are flying blind". In the USA right now, they've tested maybe 11,000 people nationwide, a bunch of which are members of a goddamn professional basketball team.
In China, they built a goddamn hospital in six days to deal with this shit. SIX MOTHERFUCKING DAYS. In the US, we're lucky to have tested 11,000 people NATIONWIDE; meanwhile, in Korea, they're testing 20,000 people per day. Got that, boys'n'girls? TWENTY THOUSAND PEOPLE PER MOTHERFUCKING DAY.
"Flying blind", they tell us — and all they've got to offer us is "social isolation", elbow-bumping and "jazz hands". This goddamn country doesn't have a clue how to deal with a problem if we can't fucking BOMB it.
Shit, man — shove your jazz hands up your jazz ass.
11×14 inch medium-res color .jpg image, 690kb.