Apropos of Nothing (Cliff? What Cliff? no.2)
By mike flugennock
Saturday - April 29th, 2023
Categories:
Bidenism
,
Economy
,
Health Care
,
Party Animals
,
right wingnuts
Tags:
austerity
,
ceiling
,
cliff
,
debt ceiling
,
DNC
,
fiscal cliff
,
GOP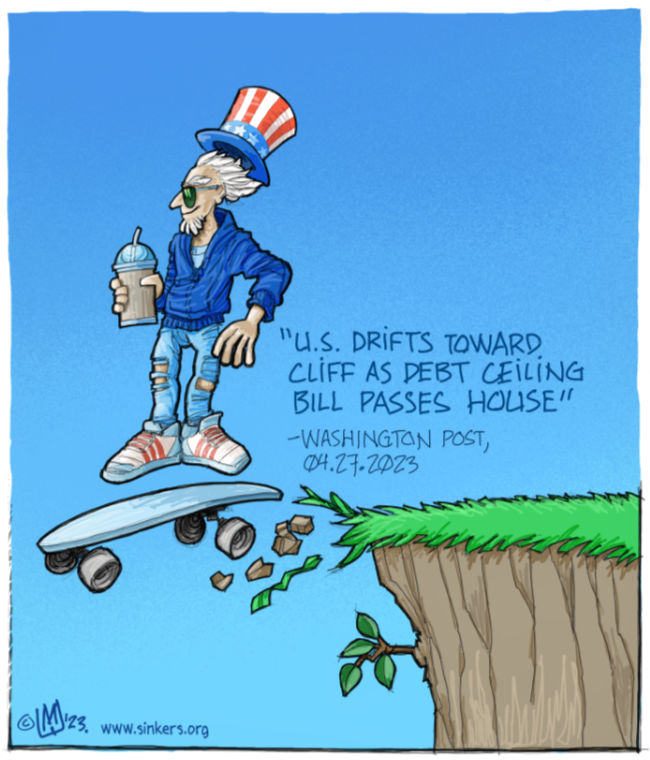 Apropos of entirely nothing, really… just stumped for a gag, smoking and doodling at an ungodly hour the other night, vaguely inspired by this alarmist headline in the Washington Post, though this cartoon was not at all intentionally related to the whole debt ceiling pissing contest on the Hill this week… and while I'm at it — is it a cliff, or the ceiling? Quit jerking us around, Washington Post.
I also fully confess to an equally boneheaded literal interpretation of the whole beat-ass "cliff" metaphor. Hell, I'm old enough to remember the FIRST time around with that "cliff" horseshit.
…and besides, if you really take a good, close, hot steamy gawk at Biden's real priorities — and the current attitude of the American general public towards more unemployment, inflation, war and austerity — you couldn't exactly say we were "drifting".
11 x 12.62 inch medium-res color .jpg image, 486kb