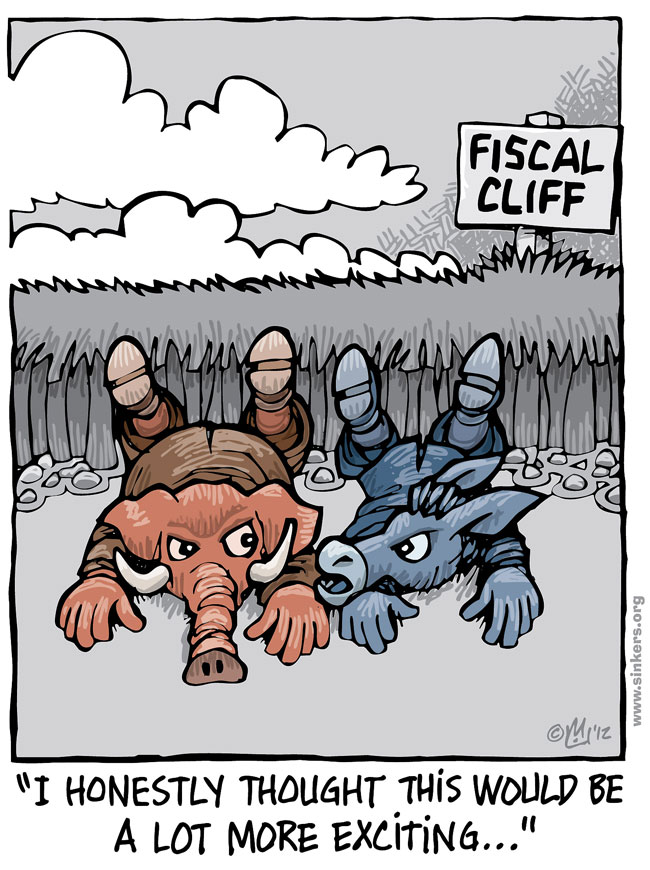 Well, folks, it's time once again for our Crisis Of The Month Club, this month featuring a slab of lame kabuki theater called "The Fiscal Cliff", yet another round of cheap drama to provide cover for the Democrats' and GOP's collusion on the dismantling of Social Security and Medicare. And, of course, you know what this means, everybody — time to PANIC! GO ON, PANIC! FREAK OUT! CRAP YOUR DRAWERS! SCREAM AND CRY! RUN AROUND LIKE HEADLESS CHICKENS! OH GOD WE'RE GOING OVER THE CLIFF! AAAUUUUUGGGGHHHHHHHHH!
Sigghhh… oh for Christ's sake, get a goddamn' grip, you stupid rubes. It's not a cliff; hell, it's not even an outcropping. Fiscal Cliff? Fiscal Rut, more like. Here, check out this article from the Institute for Public Accuracy, get your facts straight, and calm the hell down already:
"Once again, it's all about politics, not about the stuff that actually matters — a reality that becomes more obvious with the next two obstacles. There's a bundle of expiring provisions in the tax code — known esoterically as 'tax extenders' and the Alternative Minimum Tax 'patch' — that benefit corporations and upper-middle class Americans, respectively. Congress will likely extend these expiring provisions without much discussion, just as they've done in the past.

"Next obstacle: health care. The Affordable Care Act — Obamacare — includes a handful of new taxes that will go live in 2013… These taxes will likely go into effect right on schedule, but they're so small they'll have next to no discernible impact on the economy…"

Instutute for Public Accuracy: "It's Not A Cliff", November 13, 2012
Now, then… now that you drama queens have gotten your heart rates back down to normal, here's something you really need to get wound up about:
"We all knew the election was a minor diversion because no matter who won, the first order of business would be to gut the social safety net. The 'fiscal cliff' was always part of the plot line, to stiffen the will of Democrats to reverse the progressive stance it had taken since the time of Roosevelt. Pete Peterson's billions bought both parties and now it's payback time. Don't be duped by the dopes in Washington — there is no deficit and debt crisis now or looming in the distant future. The electorate must hold the feet of politicians to the fire: keep your darned hands off my Social Security and Medicare…!"

"The president's own proposed budget cuts of $4 trillion over ten years average out to $400 billion a year. In other words, the Obama Cliff is almost as large as the fiscal cliff that everyone dreads. Whatever the precise mix of tax increases and spending cuts, $4 trillion is too big a cliff…"

Institute for Public Accuracy, "'Cliff' Part of Ploy to Target Social Security and Medicare", November 14, 2012
Now, there's something to get all freaked out about. That ought to be something to get your blood boiling and your lazy asses off the sofa and into the streets — a real honest-to-god crisis, not some cheesy good cop-bad cop routine with a bunch of politicians on TV hollering "wolf!" and mouthing beat-assed clichés like "kicking the can down the road".
11×14 inch medium-res color .jpg image, 612kb.