Opening Bell
By mike flugennock
Friday - September 16th, 2022
Categories:
Bidenism
,
Ukrainamania
,
media
,
war and peace
Tags:
"Wall Street"
,
#AdvantageUkraine
,
Azov
,
fascism
,
Nazis
,
NYSE
,
Zelensky
,
Zelenskyy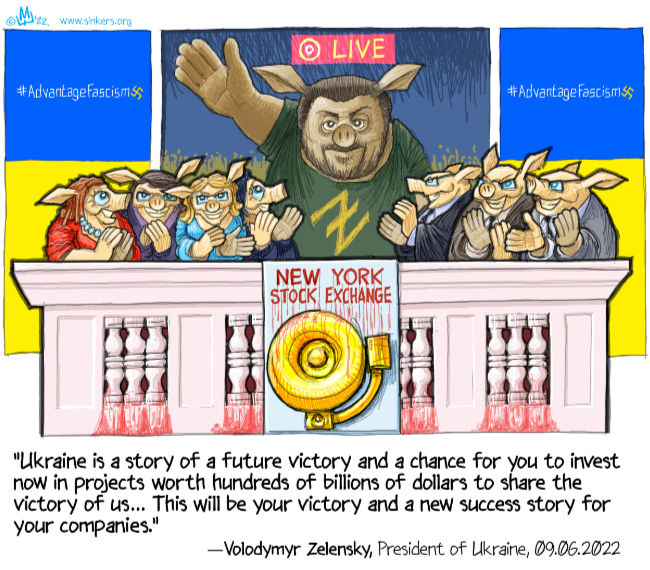 "…freedom has many manifestations but the most important for many is the ability to work for your benefit, for the benefit of your children and the want of your country. Ukraine is a story of a future victory and a chance for you to invest now in projects worth hundreds of billions of dollars to share the victory of us… This will be your victory and a new success story for your companies."
—Volodymyr Zelensky, President of Ukraine, 09.06.2022
I've seen some pretty goddamn unctous fotos in the news in my time, but none quite as revulsive lately as this tableau featuring US stooge and Neo-Nazi Volodymyr Zelensky "virtually" ringing the opening bell via remote video link at the New York Stock Exchange — and none quite as apropos, given that shares in US "defense" industries are hitting the stratosphere, and Ford and IBM's infamous collaboration with the Nazis.
As reported at Grayzone and Multipolarista, Zelensky's economic "victory" is being won through the abolition of labor protection in a program not unlike that instituted by Pinochet in Chile in the 1970s, combined with some of that good old-fashioned globalized IMF/WorldBank "shock treatment". Ukraine is "open for business", the sonofabitch says — I don't know about you, but when I hear one of these bastards talk about how his country is "open for business", it's time to look the hell OUT.
This crass stunt — along with Zelensky's suppression of Left opposition parties and his repeated foto ops with Nazis — would actually indicate that this is pretty much par for the course on Wall Street, which never met a war (or a fascist) it didn't like.
"We are pleased to welcome President Zelensky virtually to the NYSE bell podium, a symbol of the freedom and opportunity our U.S. capital markets have enabled around the globe. We are honored the President has chosen the NYSE to mark the kickoff of Advantage Ukraine and engage with the world's business community."
—Lynn Martin, president, NYSE Group, 09.06.2022

15×17 inch medium-res color .jpg image, 849kb:
>Swastika version | >Azov version