Nobody Expects the Russia Investigation!
"…and now, Lt. Gen. Flynn, you shall remain in the Comfy Chair until noon recess, with only a pitcher of martinis at eleven…"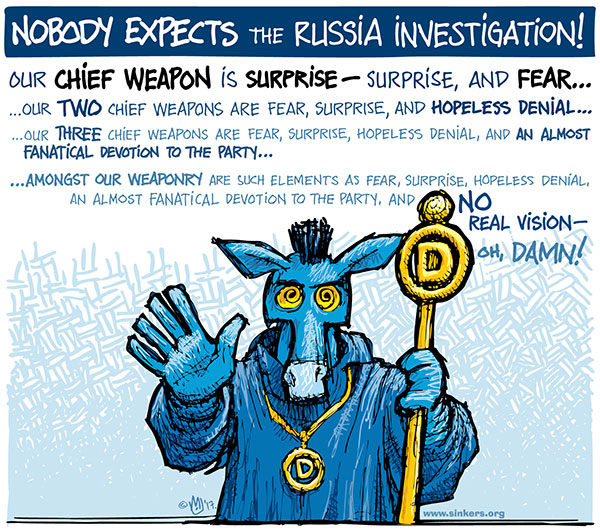 All you knobs out there who insist on comparing this circus to Watergate, please grab some bench, already. The Watergate investigation proceeded after getting hold of actual evidence; this freak show has absolutely jack, concocted by the Democratic Party nearly a year ago to explain away their aggressive failure. Nobody has any actual evidence of anything — it's all anonymous sources saying whatever the "reporters" need to make up, Washington Post and New York Times bilge being debunked before the print editions even hit my doorstep… hell, even the "reporters" farting out this waste don't come anywhere even resembling close to Woodward & Bernstein-level investigative reporting.
This shindig is so not Watergate, it's not even funny; it'll be more like a combination McCarthy witch hunt and a Monty Python Inquisition.
So, just take a friggin' seat with that crap.
11×13 inch medium-res color .jpg image, 1.3mb