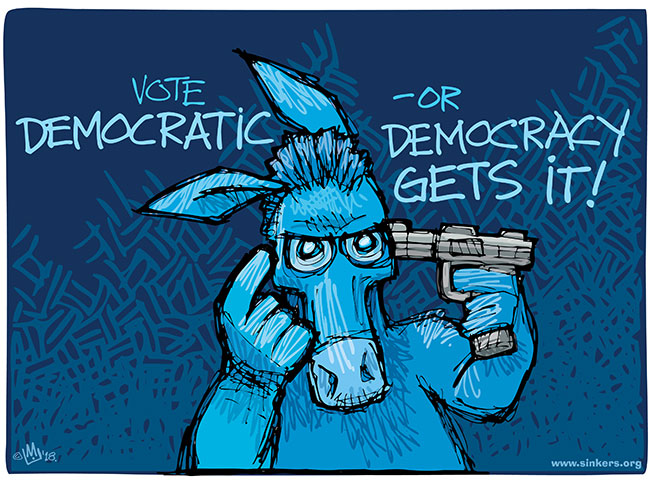 Apropos of nothing, I suppose… just coming up for air after wrapping up a big-ass fun design gig for a friend's cannabis start-up that's launching next year – and seeing all the Donuts on Twitter, bitching about all the Leftists who aren't voting Democratic, and often staying home altogether.
In case you haven't noticed, the smell of 2020 is already in the air – the Left-punching Donut accounts are out punching the Left, the Sanders-punching Donuts are out punching Bernie, and they're all out pimping the Democratic Party because… democracy. Basically, if you're not voting Democratic, you hate Democracy™.
The Donuts are all real gung-ho for the exercise of democracy n'shit, but then when you actually vote your values, like vote Green or Socialist or something – that is, actually participate in friggin' democracy – they get their panties in a twist because you didn't vote for the goddamn Democrat, even though the Democrat in the race also sucked on toast.
12×9 inch medium-res color .jpg image, 786kb