What Was That – An Earthquake?
By mike flugennock
Wednesday - August 24th, 2011
Categories:
Bushit
,
Economy
,
Obamarama
,
Party Animals
,
elections
,
media
Tags:
earthquake
,
Gallup Poll
,
Howard Dean
,
Morning Joe
,
Thomas Friedman
,
Tiger Woods
OK, kiddies, time for some more of that good old-fashioned old-skool editorial cartooning.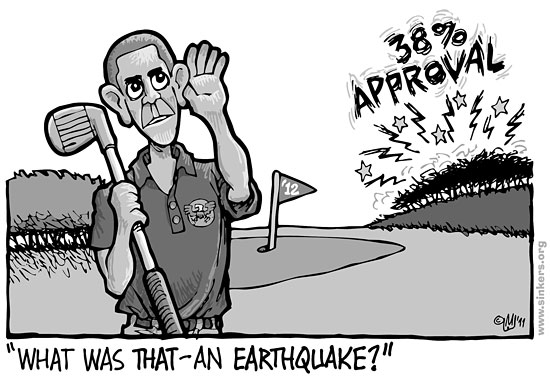 So, early this past Tuesday morning, while poring over the news, I found the report that shows President Sparkle Pony's approval rating at an all-time low of 38%. The 5.9 tremor hit at around 1pm-ish, and later that evening, a 4.0 aftershock was reported, although we didn't feel it here in DC. At around 10pm, as our cat finally decided to come out from under our bed, my mind began to wander from the wretched network TV "coverage" of the quake and back to President Carebear's tanking approval rating, and reports that he received the news of the quake while playing golf near Martha's Vineyard, where they presumably couldn't feel it.
Yesterday morning on MSNBC's horrid Morning Joe shitfest, they were doing the early segment where they read the op-eds to us on the air, and the morning's featured op-ed was Thomas Friedman's latest bilge in the New York Times, this one using a golf analogy, including references to Tiger Woods. They followed up with an interview with Democratic Party punching bag Screamin' Howard Dean, who pilloried Friedman's spewage six ways from Sunday. While it was true that yesterday's Friedman column in the NYT was the lamest piece of crap ever, what was even lamer was The Screamin' One's excuse-making and apologia for President Hope, containing all the usual clownshit, such as that people expect the President to be able to solve the problem all by himself, and the all-time classic — Obama inherited this mess from George W. Bush. Yeah, that's right, here we are going on three years into the Hope'n'Change Administration, and Screamin' Howard is still blaming everything on the GOP.
Consider this cartoon to be the second aftershock.
11×17 inch medium-res grayscale .jpg image, 492kb.