Decision 2012 (pardon my Herblock)
By mike flugennock
Tuesday - December 1st, 2009
Categories:
Health Care
,
Obamarama
,
Party Animals
,
elections
,
liberty
,
war and peace
Tags:
2012
,
Cheney
,
Gingrich
,
Obama
,
Palin
Oh, gaahhhdddd! Not only another election cartoon, but a cartoon with items metaphorically labeled, old-school! Jeez, I can hear my pal Gregor yelling right now… "Goddammit, Mike! Herblock is DEAD!"
Yeah, y'know… once the election ideas get going, it's pretty much hopeless. The usual Repuglican "stars" are already making noises about running; we're hearing about Sarah Palin possibly running (sigh), and Newt Gingrich (spit) — and I even heard about Dick Cheney (double spit) on Joe Scarborough's program this morning (triple spit).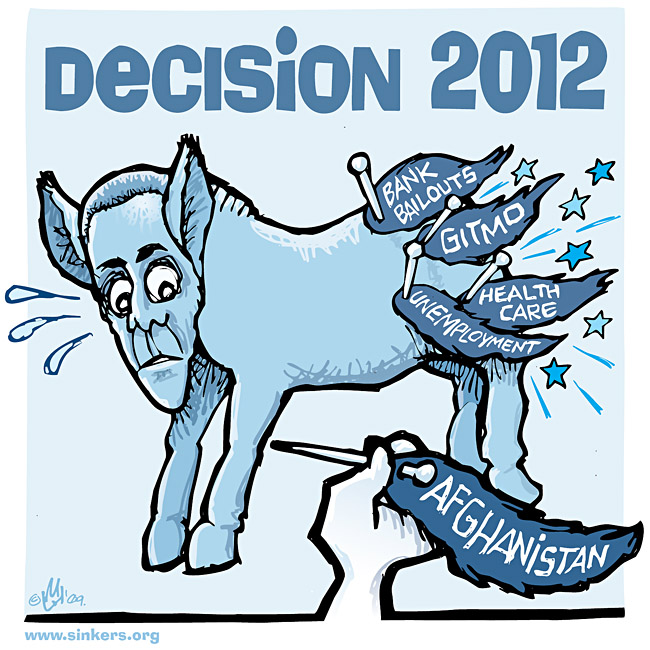 OK, granted, 2012…I may be a bit ahead of myself, here, but still… if you check out The One's record of achievement (or lack of same) in just his first year in office, plus the rash of FAIL in the special elections this year, you're looking at a raft of Donkeycratic politicians with a whole fistful of "achievements" pinned to their respective asses, and damn' near little ability to defend them come next year's midterms — which, by the way, will be held after the Afghanistan debacle's had about a year to soak in.
So, would that be next year's repudiation of last year's repudiation?