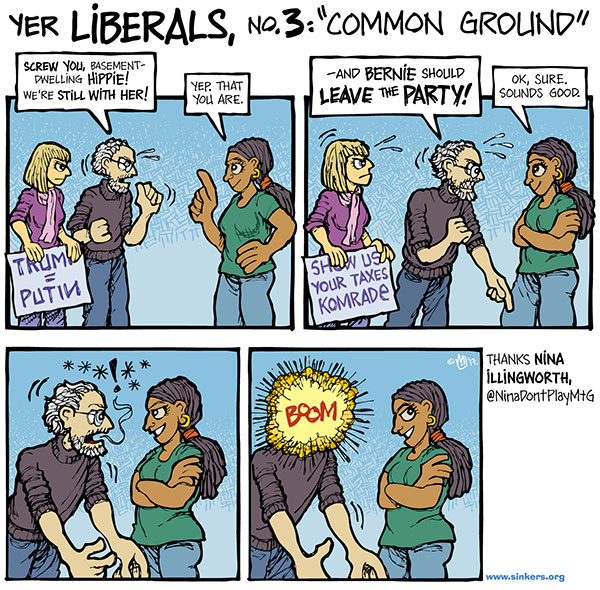 For the better part of a year and a half, Liberals have been screeching about how Sanders wasn't "a real Democrat", saying he was "damaging" the Democrats and that he and his supporters should leave the party — and after a year and a half of bullying, public insults, blame-shifting, gaslighting and other abuse, most progressive Democrats and other Left constituencies are thinking that ditching the Democratic Party sounds like a helluvan idea.
Needless to say these days, Liberals aren't getting the reaction they're hoping for from the Left on that point and, of course, the Liberals are having kind of a hard time getting their heads around it. Seems that finally, Liberal Democrats and the Left have reached common ground – just not in the way Liberals wanted.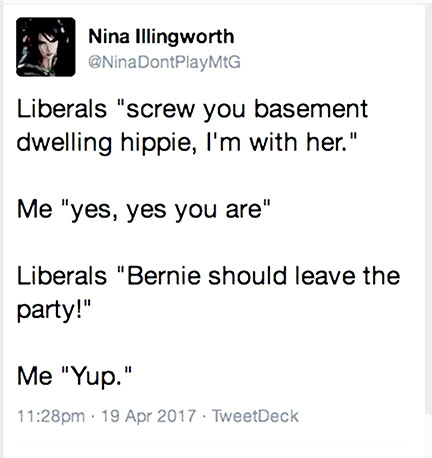 And by the way, I need to send a shout-out and huge-ass props to Nina Illingworth, one of my favorite Left bloggers, who busts balls with straight raw truth, written in the kind of no-bullshit, smash-mouth style I really dig. A tweet she posted a week or so ago pretty much handed me this gag on a plate. Don't forget to check out her blog, and toss a few bucks in her tip jar if you can. Thanks again, Nina.
11×11 inch medium-res color .jpg image, 1mb