He Can't Say "Radical Islam"
By mike flugennock
Friday - June 17th, 2016
Categories:
2016 Election
,
Middle East
,
Obamarama
,
Party Animals
,
War on Terror
,
elections
,
media
,
right wingnuts
Tags:
ISIS
,
Orlando
,
shooting
,
Trump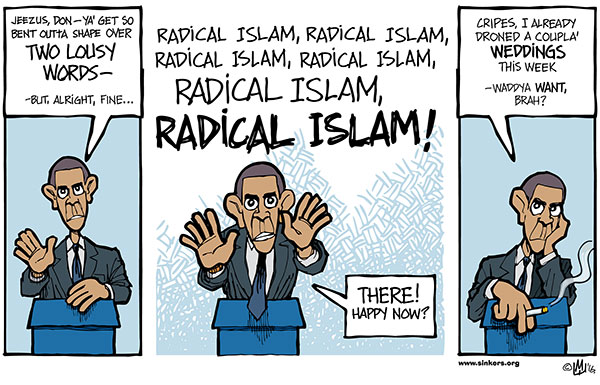 Never mind that the stew of motives for the Orlando nightclub mass shooting pretty much includes everything but ISIS. Never mind that the shooter's attachment to ISIS was on the level of a metalhead's allegiance to his favorite band (Dokken RULES!). Once the media got the slightest whiff of an ISIS connection, they and the politicians were on it like a dog with an old shoe, pausing only briefly to pretend to care about gays and lesbians before returning to the ongoing ISISfest – which brings us to Donald "You're Fired" Trump.
Despite the shooter's ISIS connection being weak at best, it didn't stop The Donald from a spasm of self-congratulatory yelling and screaming about ISIS and Muslims and immigrants and kicking Obama's nuts by bitching about Obummer's seeming inability to say the words "radical Islam". Never mind that B.O. has bombed at least seven countries in his term in office, or that he's had this country perpetually at war in the Middle East, or that he hasn't lifted a finger to stop the wave of hate and discrimination against American Muslims — dude can't say "radical Islam", and maa-aan, has it got The Donald's panties in a twist.
11×17 medium-res color .jpg image, 892kb.