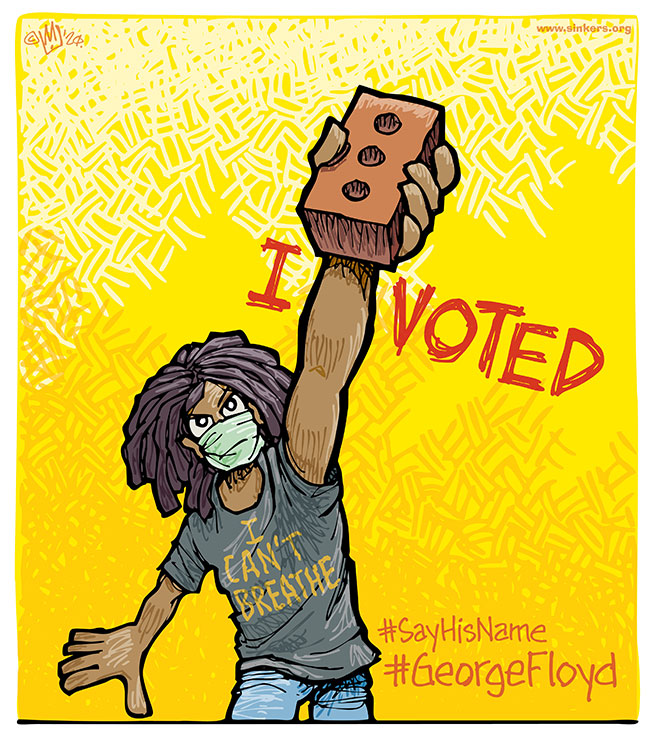 Bringing up the coffee and morning paper last Sunday morning, I caught about 15 seconds of MSNBC on the bedroom TV. Some "contributing analyst" on the morning show was discussing the nationwide uprising against police terrorism and yammering about how we needed to unite "street politics" with electoral politics — which made me want to bring up my coffee again, if you know what I mean.
Cripes, what a stupid twunt. Didn't she realize that the reason we're in the streets right now is because electoral politics is a failure? I and millions of others in this country have realized that electoralism is a big, hot sloppy bucket of fail, and that it's time to get our yellow vests on and vote in the streets.
Never mind how many times I've heard rag-chewing Liberal talking heads on cable TV news flapping their cakeholes about "peaceful" protest — jeezus, I could play a drinking game with the number of times I've heard some knob on TV talking about being "peaceful". F'crissake, man — I can't think of a single time in my life when any meaningful change was brought about by people being "peaceful". Hell, the State and Capital aren't being peaceful right now; why should the People feel obligated to be peaceful? Screw "peaceful".
11×12.5 inch medium-res color .jpg image, 1.1mb