Speakeasies: Then And Now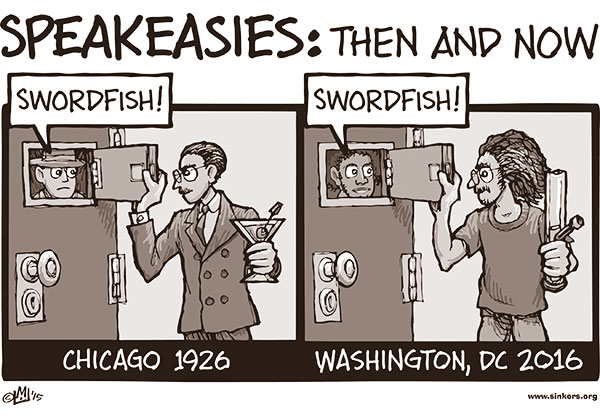 From the latest post at DCMJ.org:
Even though Initiative 71 legalized cannabis, it cannot be consumed anywhere in DC other than in a private home. This is because, the week after Initiative 71 took effect, the DC Council passed emergency legislation (Act 21-149) that banned marijuana consumption at any bar, nightclub, bingo hall, or private venue in Washington, DC. Without any pressing reason, the Mayor and the DC Council severely restricted our rights as cannabis consuming adults…
Yeah, that's right, fellow Washingtonians. You can legally drink at an alcohol bar, you can legally smoke cigars at a cigar bar, but if you want to smoke weed communally in a similar setting, you'll have to open a speakeasy — unless the DC City Council stops doing Congress' dirty work, and Act 21-149 is allowed to expire on January 15 next year.
11×14 medium-res grayscale .jpg image, 511kb