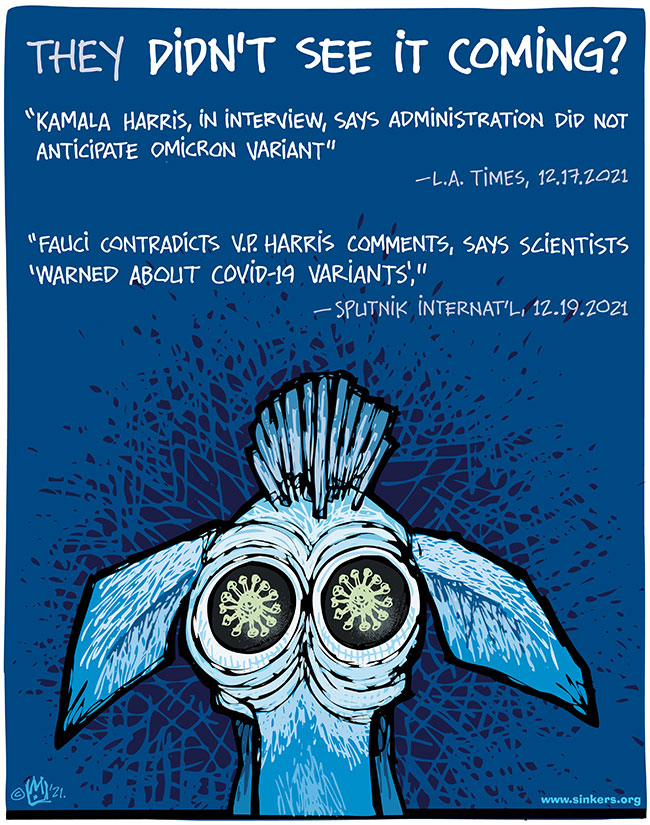 Yep, that's right, kiddies. You heard right — they actually looked us right in the face and said they didn't see it coming. Cripes, everybody else and their dog saw it coming; it was on the TV and the papers and the Internet for weeks, months. Same with Delta.
Really — the leaders of the most powerful nation on Earth, with a metric buttload of information and resources at their disposal, didn't see the latest'n'greatest Covid variant coming? Y'mean, they couldn't get hold of somebody at the WHO, the CDC, the NIH, the Salk Institute who actually knew a thing or two about virology who could've thrown them a heads-up? If there's nothing else Anthony Fauci ever did that was worth a yard sign, this was it.
So, they didn't see it coming? Uh huh. I'm thinking there's something else that bunch isn't going to see coming, either.
11×14 inch medium-res color .jpg image, 1.1mb