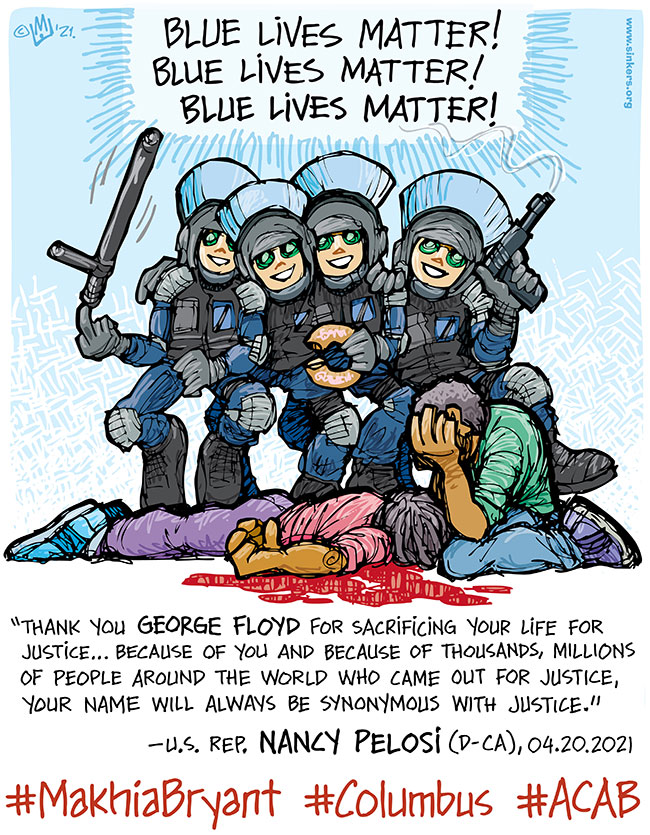 Mere hours after the Derek Chauvin verdict was handed down, Columbus police shot 15 year-old Ma'Khia Bryant to death after she called the police for help as she was being threatened. That's right; she called the goddamn cops for help, and they shot her — after which police taunted bystanders with declarations of "Blue Lives Matter!".
And while that atrocity was going on, House Speaker Nancy Pelosi was sharting out the following hot, sloppy bucket of White Liberal Bougie Politician horseshit:
Speaker Pelosi: "Thank you George Floyd for sacrificing your life for justice … Because of you and because of thousands, millions of people around the world who came out for justice, your name will always be synonymous with justice."
The Recount @therecount on Twitter, 04.20.2021
…and here I thought Pelosi had totally hit bottom with that taking a knee in a kente cloth stunt. Christ, that goddamn woman needs to just shut the hell up, resign from office, and retire back to San Francisco with her huge-ass fridge full of overpriced ice cream.
11×14 inch medium-res color .jpg image, 1.3mb