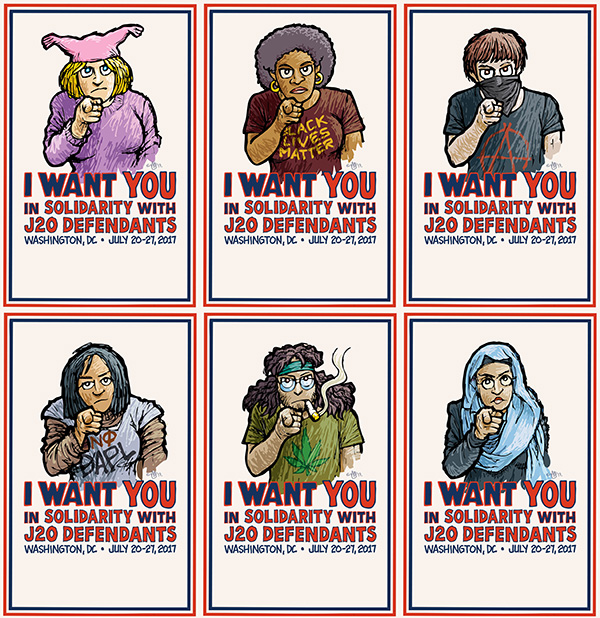 Crimethinc writes in their Call For An International Week Of Solidarity, July 20-17, 2017:
We are calling for a Week of Solidarity with the J20 defendants from July 20 to 27, 2017. July 20 marks six months from the initial actions and arrests during Donald Trump's inauguration, and on July 27, a motion to dismiss the charges will be argued in court. The case has finally begun to receive the media attention it warrants; with this court date approaching and the cases underway, this is a crucial time for a second Week of Solidarity.

On January 20, 2017, thousands of people came to Washington, DC to protest the presidential inauguration of Donald Trump. In the early morning, blockades shut down security checkpoints and discouraged people from attending the inauguration itself, while impromptu marches and direct actions occurred throughout the day. There was a spirit of defiance in the air.

Midmorning, an "anticapitalist and antifascist" march of several hundred people made clear its opposition not just to Trump but also the system that made Trump possible… After about half an hour, the march was brutally attacked by police, who used chemical and crowd control weapons along with physical force, then boxed in ("kettled") and mass-arrested people. Everyone on an entire city block was arrested and given the same charge of felony rioting. Approximately 214 arrestees now face a total of eight felony charges, including conspiracy and destruction of property. All of the J20 defendants are now facing up to 75 years in prison.
These 11×17 posters are 300dpi jpg images, approximately 1.7mb each: