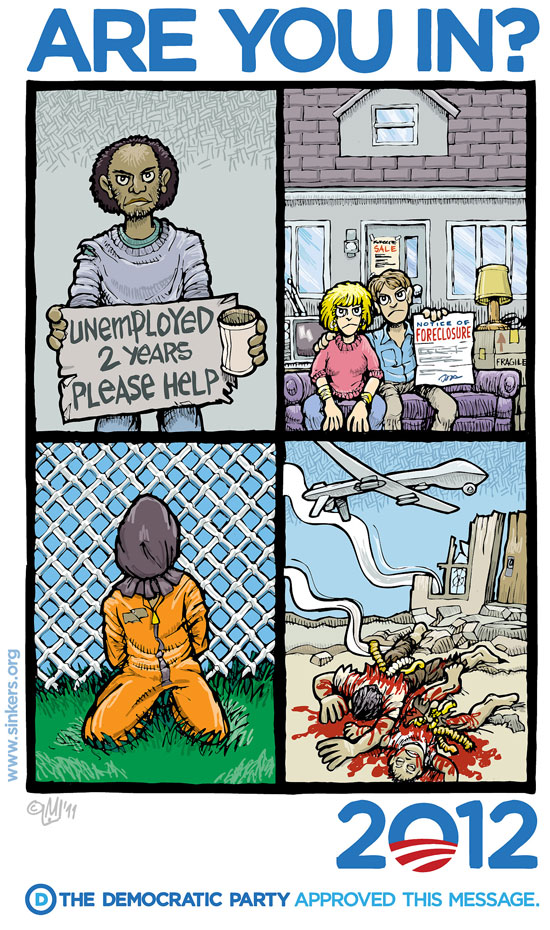 You've got to hand it to Obummer, his timing's impeccable. On the anniversary of the assassination of Dr. Martin Luther King — and one day before capitulating to the Rightists and allowing military commission trials of Guantanamo detainees — Obummer rolls out his 2012 re-election campaign, complete with a smarmy, grassrootsy video, and asks, "Are You In?"
"Are You In?" Jeezus, what the hell kind of slogan is that? It sounds like the wrapup for a venture capital pitch, like a question asked by some newly-minted Stanford MBA trying to schmooze a few million for his crappy-assed Internet start-up.
The "official" unemployment rate is nailed at around 10%, the foreclosure rate is climbing, bankers are getting fatter than ever, Bush's tax cuts for the rich are still in place, the healthcare system is still in the hands of corporations, we're up to our asses in three wars, the concentration camp at Guantanamo Bay is still open, our civil liberties are in worse shape than ever, Obummer's just rolled over for John Boehner on the budget deal — and now Obummer's got the sheer gall to ask me if I'm "in".
Like hell I'm "in". Take a goddamn' hike, piker.
"Unemployment", 11×17 color .jpg image, 660kb.
"Foreclosure", 11×17 color .jpg image, 884kb.
"Guantanamo", 11×17 color .jpg image, 1mb.
"Drone Strike", 11×17 color .jpg image, 928kb.
The complete series, 11×17 color .jpg image, 1.1mb.