ya got rats on the West Side,
bedbugs Uptown!
What a mess! This town's in tatters!
–rolling stones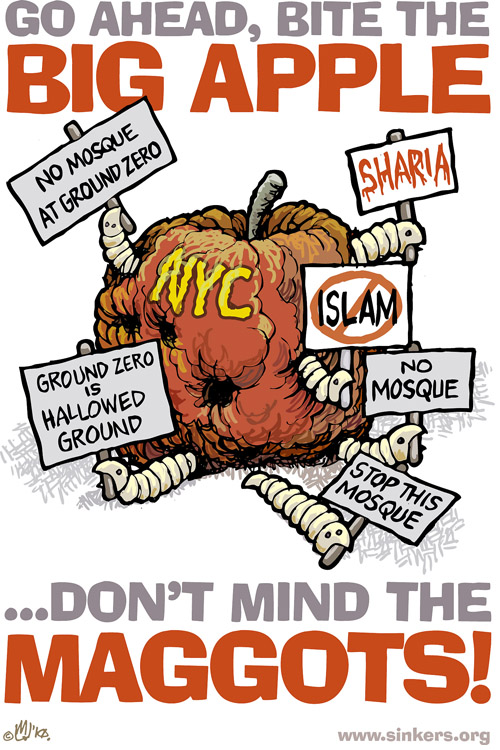 So, what's the deal with New York City, anyway? Is it hypocritical — or schizoid? I've been asking this question a lot lately, while checking out the news from NYC about the so-called "Ground Zero Mosque" and the attendant right-wing racist street zaniness. New York City's always had this outward image of a progressive, multicultural, hip city — a cradle of the US labor movement, the birthplace of outfits like the Yippies, the city where people like Andy Warhol, Peter Max, Bob Dylan and Patti Smith first emerged as major artists — versus a long-present simmering vile nasty core of racism and class war, where Amadou Diallo and a host of other Black Americans and African immigrants were brutally tortured and murdered by the police, and systematic gentrification drove the poor and working class out of places like Tompkins Square and Brooklyn.
I was recently discussing this with my friend Isis, a cohort in the Town Hell Posse and native New Yorker. She seemed totally down with the wormy, rotten core idea, and filled me in on New York City's historic record of racism, xenophobia and classism. "Y'know that old Stones song, 'Shattered'? That pretty much says it!" Suddenly, the conversation shifted to sketching in some plans to go to NYC to cover the big anti-Islamic hate rally being held on September 11, and how we could use "Shattered" for our motif and background music; my mind suddenly fixated on the line that goes go ahead, bite the Big Apple — don't mind the maggots!