Ah, Y2K… a simpler, happier time. Nothing important having to do with computers or networks crashed, failed, collapsed, imploded or fell over. We still didn't have our flying cars yet, but we were still wired to the teeth on the solidarity high from A16. Of course, we didn't have a whole lot of time to bitch about not having our flying cars yet, as it was fast approaching time to decide how we were going to organize around the Presidential "Election" circus, and the attendant party conventions. This being DC, we spent a lot of time spotlighting Statehood organizing and the "debates".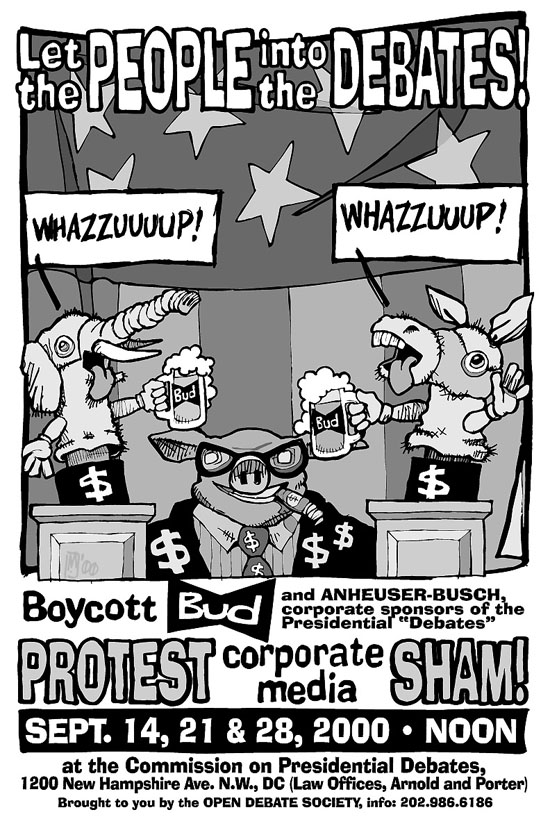 Every Presidential "election" year, the Commission On Presidential Debates, a totally bipartisan outfit, convenes to decide, in an entirely bipartisan fashion, how to prevent anybody other than Republicans and Democrats from appearing in the nationally televised "debates". This, of course, was also the first year in many that the Democrats were facing any kind of serious challenge from the Left — and by "the Left", I don't mean "candy-assed phony 'Pwogwessives' who vote Democratic, mail checks to NPR and read Mother Jones while they're taking a dump"; by that, I mean the goddamned Left, from the outside, in the form of Ralph Nader and the Green Party USA, who actually were close to polling numbers high enough to qualify for Federal matching funds and automatic ballot access in the next "election" year. Needless to say, most of the Democratic Party's most vigorous campaigning wasn't against the GOP, but against the Left — basically, against its own base — for daring to decide they had a choice, and that they didn't need the Democrats' permission to take action, and to call the Democratic leadership to account for their abandonment of core values, its failure to defend working people and, basically, being such a worthless, no-account, dive-artist outfit while still attempting to put up a shabby, weak, Liberal/Progressive facade. It was the year the Democratic Party finally revealed what it was really all about by doing everything it could to keep off the ballot and out of the "debates" a party whose platform would've been raised proudly by the Democratic Party themselves in, say, the early '70s.
This poster advertised a series of protests held in downtown DC, at the headquarters of the Commission on Presidential Debates, calling out the Democrats for their hypocrisy and cowardice, and calling out the CPD for rigging the rules in favor of rich, well-connected establishment politicians, and for allowing corporate influence in the form of Anheuser-Busch's sponsorship of the telecasts. This was also the year where you couldn't turn on your TV set without at least once seeing that goddamn' "Whazzuuuuuuup!" commercial at least ten times. Still, it was silly enough to hold my attention for more than ten seconds, and my friends and I were already using it as a form of ironic, absurdist greeting, so when I let my mind wander a bit and started riffing on the whole Presidential Debate/Whazzuuuuuup idea, it didn't take long to start asking myself what influence Anheuser-Busch's sponsorship will take. Would they be allowed to hang their logo onstage, like those old quiz shows from the '50s? Would A-B be allowed final say on the questions…and have us reduced to an hour a night for three nights of Gush and Bore standing there going "Whazzuuuuuuuup?" This, while not the most likely, proved to be the more entertaining vision.
11×17 medium-res grayscale .jpeg image, 660kb