Gold Star Mother
By mike flugennock
Friday - August 5th, 2016
Categories:
2016 Election
,
Clintontime
,
Iraq
,
Party Animals
,
elections
,
media
Tags:
2016 Election
,
Democrats
,
Hillary
,
Iraq
,
Khan
,
Trump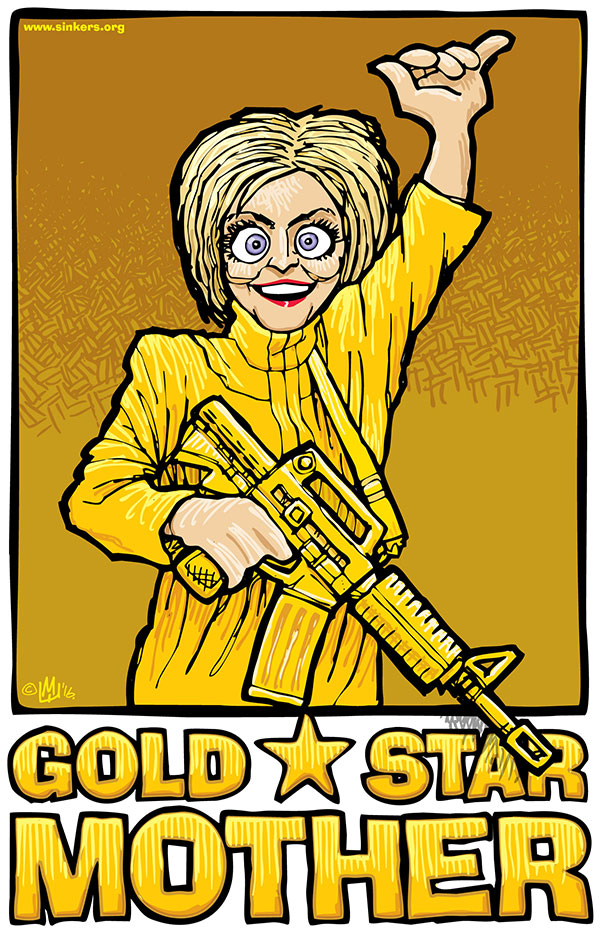 So, about a week or so ago, The Donald queefed out yet another classic Tourette's outburst about how he "sacrificed" during the Iraq War by "employing thousands and thousands of people" in response to remarks at the Democratic Convention by Khizr Khan, father of Army Capt. Humayun Khan, killed in Iraq in 2004, about how The Donald "sacrificed nothing" for his country.
The Democrats, always on the lookout for an issue to exploit, started up a good old-fashioned flag-waving contest, yelling to anyone who'd listen about patriotism and sacrifice. Gotta give 'em credit, though; they managed to find the perfect non-issue to distract the media from all the leaks of DNC emails detailing their campaign of fraud and deception against Bernie Sanders' campaign for the Democratic Presidential nomination. And it's always good to see that Liberals love Muslims — as long as they're willing to die for the Empire.
And speaking of sacrifice, I'm guessing Chelsea was too busy studying to become a hedge fund manager to do any sacrificing.
Jacket and M4 Carbine Ensemble by Giorgio Armani, $100b.
11×17 inch medium-res color .jpg image, 1.4mb