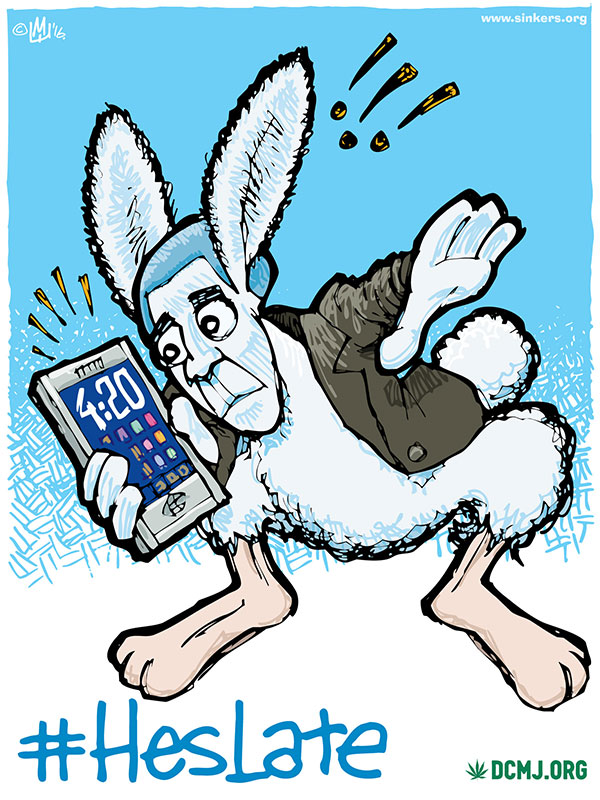 Yesterday, following on the heels of a successful "Smoke-In" protest earlier this month, was DCMJ's historic meeting with White House officials from the Office Of National Drug Control Policy concerning the rescheduling or descheduling of marijuana from its current status at Schedule 1 — listed alongside heroin and methamphetamine. Along with combat veteran Brandon Wyatt of the group "Weed For Warriors", DCMJ leaders Adam Eidinger and Nikolas Schiller spoke to the ONDCP representatives at length on the need for a political — rather than scientific — solution to the current cannabis prohibition situation. Citing the racism of Federal Narcotics Bureau Commissioner Harry Anslinger (responsible for the initial Federal ban on cannabis in the 1930s) and, later, President Nixon in the late '60s and early '70s, Eidinger asserted that because cannabis prohibition was a political act, a solution to end prohibition must also be political.
Eidinger and Schiller called for a followup to this meeting at a higher level, a "bud summit" at the White House with El Presidente himself. "He doesn't even have to say anything," commented Eidinger, "he just needs to listen. Because it's going to take a year of dialogue at the federal level to figure out federal legalization."
Listening to a recording of the ONDCP meeting at a "post-mortem" meeting back at the DCMJ office, conversation turned toward the fact that Obama was late in deciding on how to handle Federal legalization; "late for 4/20″ was the joke going around the room, and it inspired a literary analogy "hook" on which to hang a "hashtag point" — #HesLate — and this cartoon.
11×14 inch medium-res .jpg image, 856kb.
11×17 inch May 20 poster, medium-res .jpg image, 3.3mb.