Blast From My Past: summer '78
A few weeks ago my "baby sister" (now 51) finally finished straightening out our late mother's estate and got the house sold. The Sunday after we signed off on the sale, Sis and I met up out at Mom's house to grab a last few things we wanted to save before the Salvation Army guys cleared the place out.
It turns out my sister had found and put aside for me a couple of boxes filled with old reprints of my high school and college newspaper cartoons and old studio class sketchbooks from my senior year of college. Among the sketchbooks was one nearly half full of old comic strips and cartoons I'd done for Outlaws, the old DC Yippie 'zine, the summer after the notorious 1978 White House Smoke-In — work I thought had been lost forever.
I was surprised at how little I winced as I flipped through the sketchbooks. Granted, the gags are rather obscure and unarguably dated, but technically the work itself still actually holds up rather well.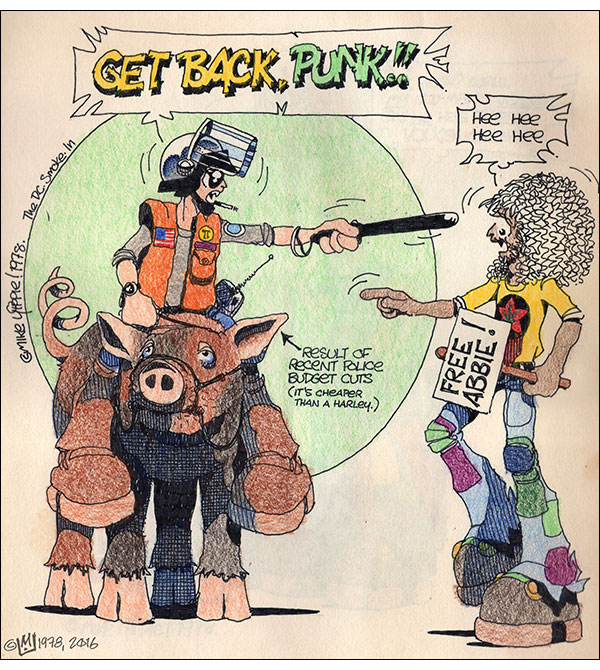 This is one of the first cartoons I drew under the pseudonym "Mike Yippie" in the summer of 1978, in India ink with Speedball "B" nibs and Prismacolor pencils on rough sketch bond. While he never tried to discourage me from doing these cartoons, my Dad was concerned about my publishing them under my real name and insisted I come up with a pen name.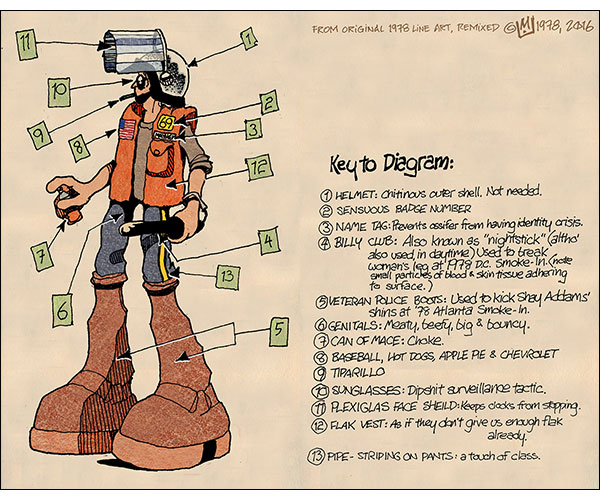 This is a digital "remix" of a piece of India ink line art originally created for Outlaws, late summer 1978.
The base line art was scanned at 600dpi and cleaned up using the tonal curve adjustments in Photoshop. The color fills were created by sampling the colored-pencil fills in the Cop Riding A Pig cartoon and using the Photoshop rubber stamp and cloning tools to "paint" them onto several individual layers. The lightly-textured background fill was built in the same fashion from a photograph of a blank sheet from the same sketchbook as this cartoon was taken from.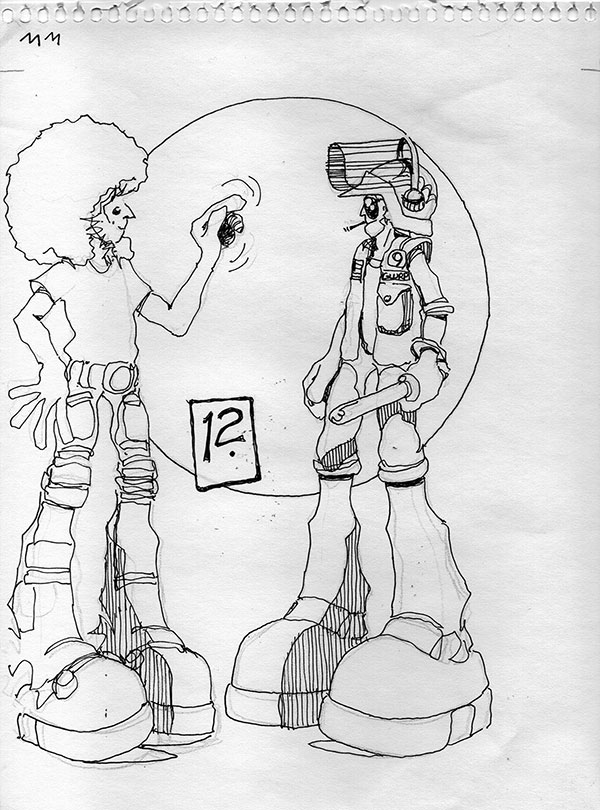 An unfinished comic strip panel, Fall 1978. This is why I eventually started working on 11×14 and 14×17 sheets. To this day, not running off the edge of the page is a constant struggle.