Was George W. Bush Really That Bad?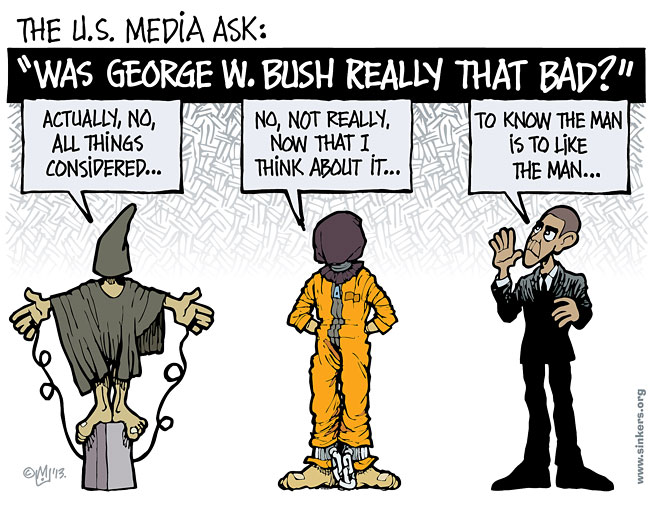 So we know President Bush the man. And what President Clinton said is absolutely true — to know the man is to like the man, because he's comfortable in his own skin. He knows who he is. He doesn't put on any pretenses. He takes his job seriously, but he doesn't take himself too seriously. He is a good man.
--Barack Obama, speaking at the dedication of the George W. Bush Presidential Library, 04.25.13
The dedication of the George W. Bush Presidential Library this week gave the US media a chance to engage in one of its current favorite pastimes: rehabilitating the public images of thoroughly loathsome and reprehensible public figures. They'd hardly had time to catch their breath after canonizing Margaret Thatcher before it was time for their toughest challenge ever — rehabilitating George W. "The Decider" Bush. Yeah, that's right, it's Shark Jumping Time.
Y'know the worst thing about this wretched speech, though? He's paraphrasing Bill Clinton, f'cripesake. Between this and the Thatcher veneration and Chelsea Clinton interviewing the GEICO Gecko, I'd say this pretty much indicates the death of the US media.
11×17 medium-res color .jpg image, 684kb.
For your further entertainment, here's a couple of classic op-ed stinkburgers from the Washington Post from this past week. Feel their sliminess wash over you.
"George W. Bush, A Principled President", Michael Gerson, Op-Ed Scribbler; author, Heroic Conservatism, The Washington Post, 04.25.13
"George W. Bush Is A Victim Of A Rush To Judgement", Stephen Knott, Professor, U.S. Naval War College, The Washington Post, 04.25.13