1981 White House Smoke-In Poster
I don't know about anyone else, but at the time, it seemed like a single year under the Reagan Mob was forever, and getting worse. What a relief to finally quit doing cartoons about how grim things were getting and do a good old Smoke-In poster, this time with a Hollywood theme (of course) in honor of our esteemed host of Death Valley Days (or "Daze", which things were in at the time). This is one of the last serious Smoke-Ins they were able to pull as the Just Say No™ rhetoric was just starting to take hold, and a generation of high-school and college kids decided they all wanted to be Gordon Gecko and Timothy Geithner when they grew up.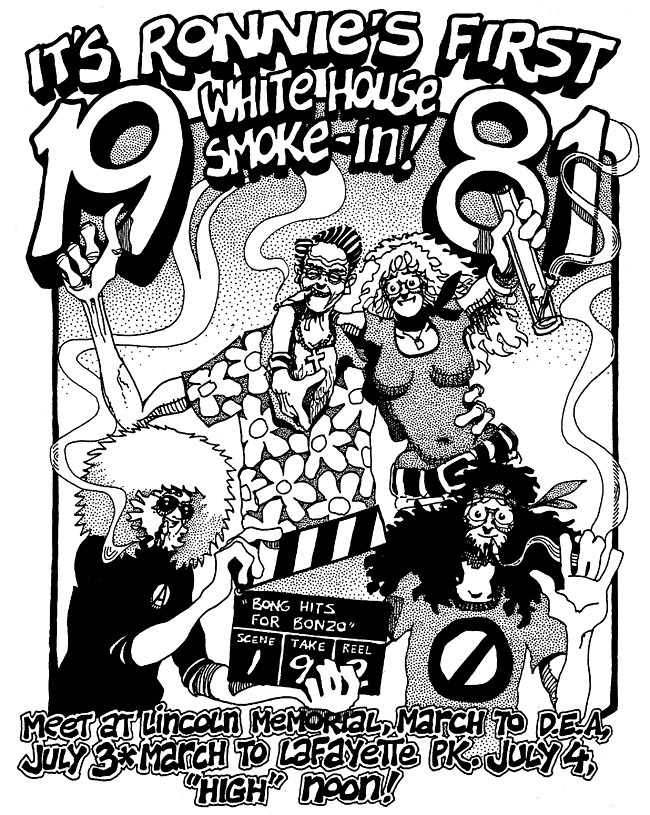 This piece wound up as a color full-age ad for the 1981 White House Smoke-In appearing in High Times magazine. Sadly, that's the only piece I ever got into High Times, likely because their art director, a guy named Jeff Tiedrich, was also the art editor of the Yipster Times around 1977-79, and was shit-canning my stuff there as well — before he moved on, and the task of picking out the art fell to a guy who was quite a fan of mine back in the day: Yipster Times co-founder/co-editor and Yippies co-founder Dana Beal.
medium-res jpg image, 323k; high-res tiff image, 839k