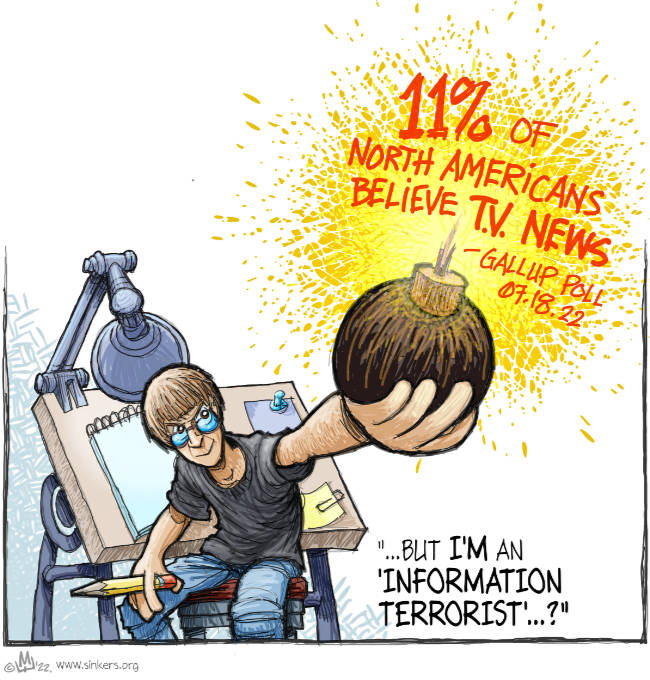 …Some three weeks after Schumer helped push the (Ukraine aid) bill into law, on July 14, Andriy Shapovalov, a Ukrainian civil servant whose salary was paid for by U.S. taxpayer monies, convened a "round table" in Kiev on "countering disinformation."

Shapovalov, in his role as the acting head of Ukraine's Center for Countering Disinformation, published a list of the names of 72 people whom he accused of deliberately spreading disinformation about Ukraine. Shapovalov labelled them "information terrorists," adding that Ukraine was preparing legislation so that such people can be prosecuted as "war criminals."

—Scott Ritter, reporting at Consortium News, 08.03.2022
Yeah, kids, isn't that a flabbergaster? One helluva humdinger of a doozy. I thought Biden — who never met a US war of aggression he didn't like — had pretty much destroyed my Goofy Meter when he called Putin a "war criminal", but this shit's got Goofy Meters exploding worldwide.
Just so we're clear — any journalist reporting the truth from on the ground, any journalist or essayist whose reporting or opinions contradict the official US/NATO Western media narrative? That's right, an "information terrorist", a "war criminal". Ben Norton? Aaron Maté? Rania Khalek? Alina Lipp? Eva Bartlett? Lee Camp? Yep, that's right. Information terrorists, war criminals.
The Gallup numbers, which I peeped not soon after, really drove the goofiness home. After 70-odd years of lies about Hiroshima, the Tonkin Gulf, My Lai, Cambodia, Laos, the Drug War, Kuwaiti incubator babies, Iraqi WMD's, Afghanistan, Havana Syndrome, Russiagate, trust in US media is at an all-time low, and I'm an "information terrorist" for doing these goddamn cartoons? I'M a goddamn "war criminal" for calling out the US state and media on their lies?
Bwah ha ha ha ha hah. The West™ can't collapse a day too soon for me.
13.75 x 14 inch medium-res .jpg image, 624kb