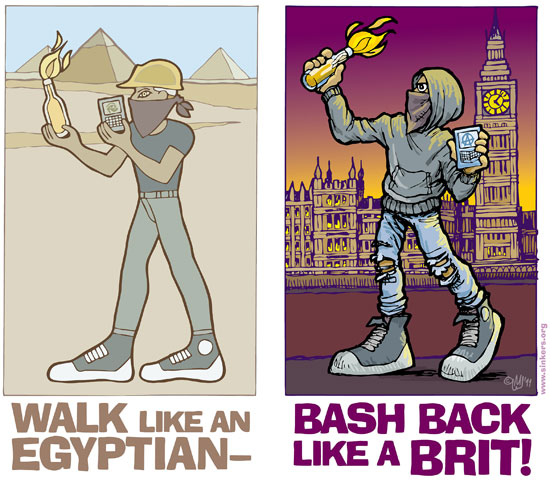 I really can't come up with any words this time to go with this one; everything I've got to say about the uprisings in London and across Britain I've already said in this cartoon.
So, instead, I'll just throw it over to Daniel Hind, writing at Al Jazeera in an op-ed entitled Nothing "Mindless" About Rioters:
Civil disturbances never have a single, simple meaning. When the Bastille was being stormed the thieves of Paris doubtless took advantage of the mayhem to rob houses and waylay unlucky revolutionaries. Sometimes the thieves were revolutionaries. Sometimes the revolutionaries were thieves. And it is reckless to start making confident claims about events that are spread across the country and that have many different elements. In Britain over the past few days there have been clashes between the police and young people. Crowds have set buildings, cars and buses on fire. Shops have been looted and passersby have been attacked. Only a fool would announce what it all means…

We can dispense with some mistakes, though. It is wrong to say that the riots are apolitical. The trouble began on Saturday night when protesters gathered at Tottenham police station to demand that the police explain the circumstances in which a local man, Mark Duggan, had been shot dead by the police. The death of a Londoner, another black Londoner, at the hands of the police has a gruesome significance. The police are employed to keep the peace and the police shot someone dead. This is a deeply political matter. Besides, it is conventional to say how much policing in London has changed since the Brixton riots of the early eighties – but not many people mouthing the conventional wisdom have much firsthand experience of being young and poor in Britain's inner cities.

More broadly, any breakdown of civil order is inescapably political. Quite large numbers of mostly young people have decided that, on balance, they want to take to the streets and attack the forces of law and order, damage property or steal goods. Their motives may differ – they are bound to differ. But their actions can only be understood adequately in political terms. While the recklessness of adrenaline has something to do with what is happening, the willingness to act is something to be explained. We should perhaps ask them what they were thinking before reaching for phrases like "mindless violence". We might actually learn something…

16×20 inch medium-res color .jpg image, 1mb.
Continue reading "Walk Like An Egyptian – Bash Back Like A Brit" »