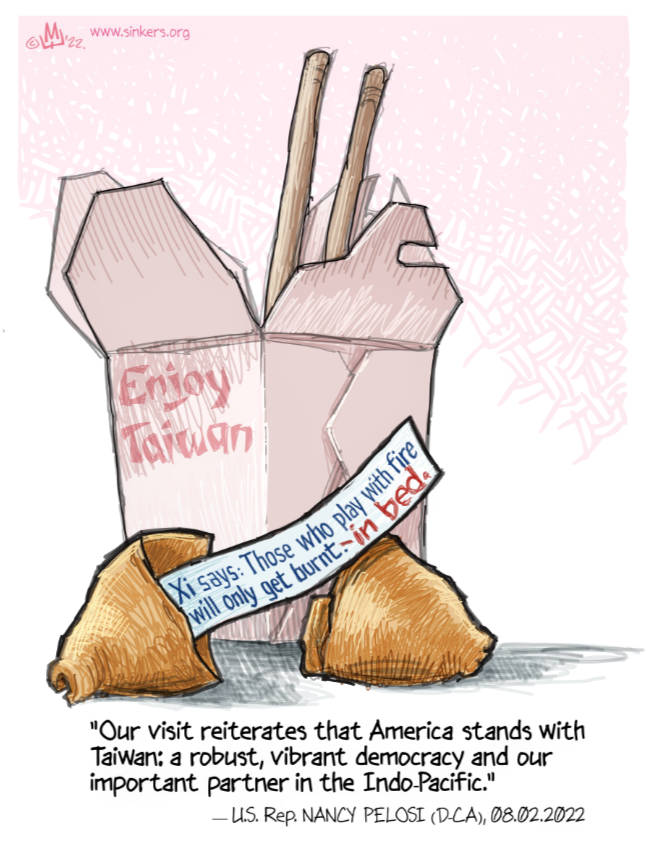 "Those who play with fire will only get burnt… We hope the U.S. side can see this clearly." — Xi Jinping, to Joe Biden, 07.28.2022
Y'ever get Chinese carry-out and play that stupid game with the fortune cookies where you scribble the phrase "in bed" at the end of the banal faux-Confucian "fortune" in a childish effort to make it sound "dirty" somehow?
Oh, c'mon; I know y'all have done it. I've done it a bunch — and that kind of puerile, low-brow joke seems a fitting analogy to portray the arrogance, hubris, hypocrisy, belligerence, recklessness and straight-up stupidity of House Speaker Nancy Pelosi and her Provoke World War III If It's The Last Goddamn Thing I Ever Do Tour this week. It's as if her staff went out of their way to script the most irksome, provocative, sabre-rattling batshit takes they could possibly come up with for her, as if they just followed her around with an mp3 recorder and transcribed everything the old bat queefed out.
The really sad thing about Pelosi, Blinken, Biden and their ilk, though, is that they really, honestly think they're the greatest goddamn thing on two legs. They really do think people are impressed with this horseshit.
Still, as an American, I have to appreciate the Speaker keeping me briefed in on who "America" is standing with right now. Between standing with Israel, the Uyghurs, the Ukraine, and now Taiwan, it's looking like this "American" is booked pretty solid these days.
12.5 x 16 inch medium-res color .jpg image, 447kb