About this time, the implosion of the Dot-Com Bubble was really starting to ripple through the economy, causing an uptick in unemployment and a "recession-ette" — nothing like the massive Fail we're experiencing now, of course, but still quite a jolt at the time.
In the midst of all this was the run-up to Iraq War v2.0 — batshit-crazy Neocons throwing absurd lies and fabrications at the wall in hopes something will stick, craven Democrats fighting each other to be first in line to support Bush's lunacy, and an increase in aggressive military recruiting tactics — i.e. stalking high-school kids coming out of class or at the shopping mall, threatening kids with imprisonment in Guantanamo when they attempted to back out of enlistment.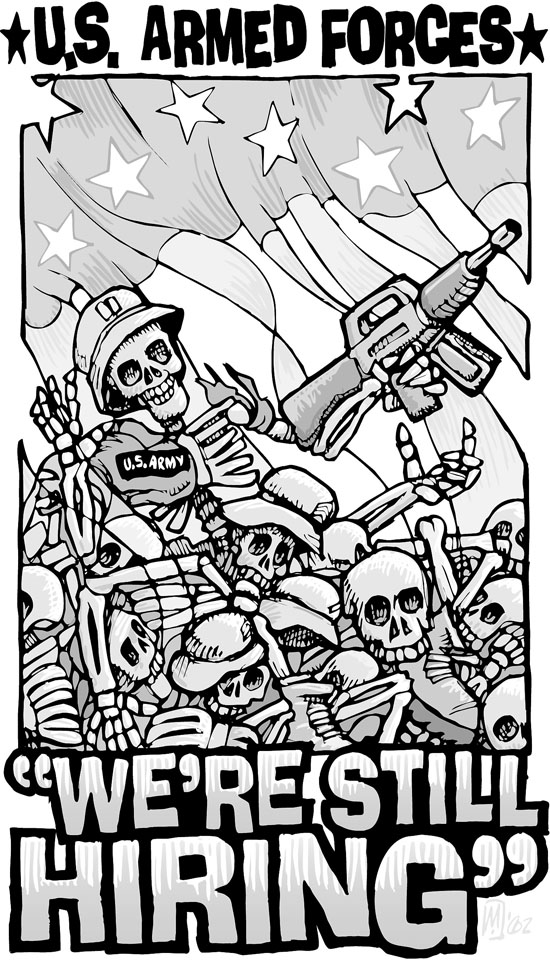 In this piece, I'm sort of wondering aloud about whether or not the Neocon Mob were actually banking on the increase in unemployment to supply them with the volunteer cannon fodder they needed to properly stomp on Iraq and steal its resources and destroy its culture. Need a job, kid? No prob, dude; the Army is still hiring!