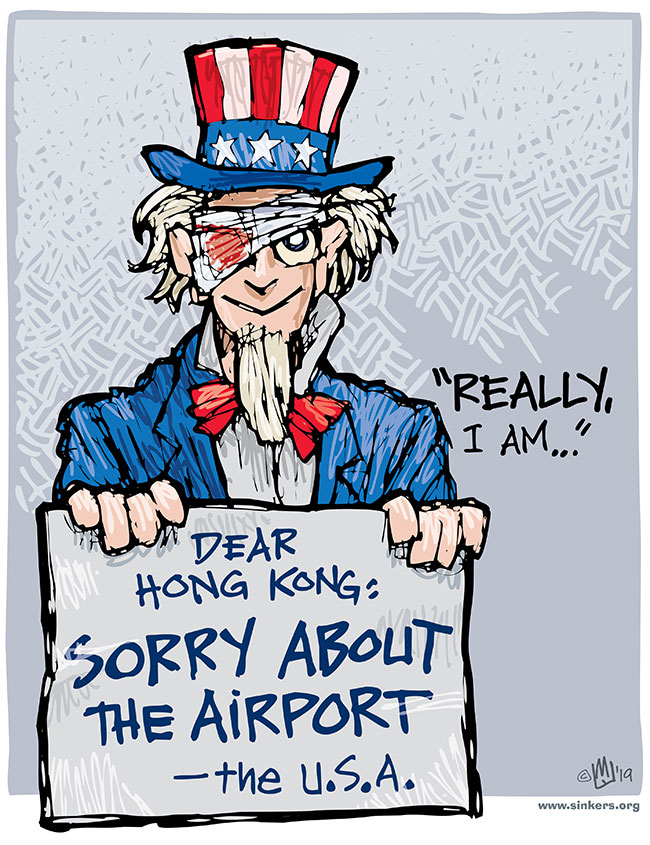 If the fact that this and the previous "revolution" in Hong Kong have been backed by the National Endowment for Democracy and "Freedom House", and the fact that current "pro-democracy" leaders have been peeped meeting with US Consulate officials, and the fact that the mob in Hong Kong have been spotted waving US flags and singing "Star-Spangled Banner" – not to mention that most of the signs are in English – perhaps the fact that the Hong Kong "revolutionaries" are getting big fat shout-outs from Nikki Haley should convince you that the "revolution" in Hong Kong is a massive, bogus US-backed astroturf show.
The eyes of the world see that the people of Hong Kong are not terrorists. They are freedom fighters. To the people of Hong Kong, we are praying for your safety and believe that democracy is worth fighting for. We hear you and we stand with you! ????????#FreedomForHongKong https://t.co/Q8JUIPnLQy

— Nikki Haley (@NikkiHaley) August 14, 2019
This past Tuesday, a mob affiliated with the "revolution" in Hong Kong took over the international airport and brought the chaos, confronting police and causing spectacular disruptions in air travel. The real kicker was when the "revolutionaries" spent the next day greeting travelers at the airport wearing symbolic eye bandages in solidarity with an injured comrade, holding signs apologizing for the previous day's havoc. That's right, apologizing. Idiots, why the hell were they there, then? Isn't that the whole point of protest? Hell, that sure was the point of getting upwards of 100,000 people into the streets of Seattle and Washington DC to bring the city to a standstill and disrupt the meetings of the WTO, IMF and World Bank. Disuption was our jam that day, f'crissake; we sure as hell weren't apologizing for anything.
Christ, man, c'mon.
11×14 inch medium-res .jpg image, 863kb