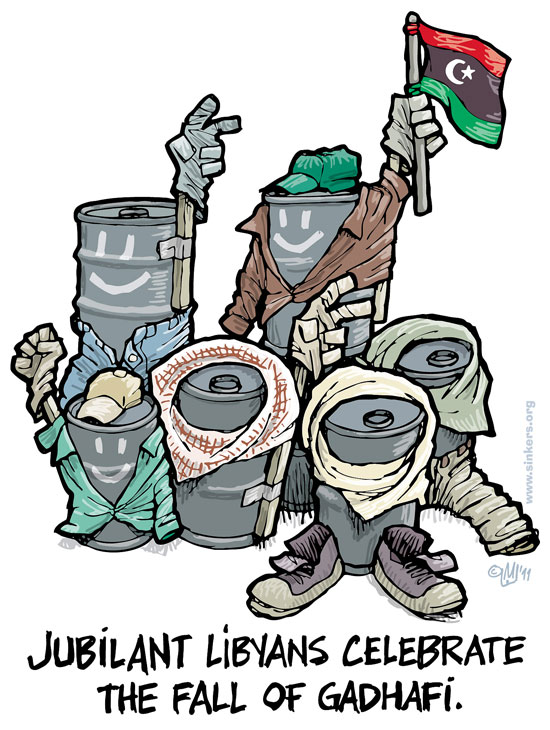 A victory for the Libyan people? D'ah ha ha ha ha ha hah, nahh, I'm just givin' y'all some shit. Of course not. Gadhafi is claiming that the US, NATO, and their proxy "rebel" armies in Libya are still in for a "long war" and I, for one, hope he's right — not because I don't think that Gadhafi is a rat bastard, but because it would mean that Obama and the Cruise Missile Liberals would finally get their very own "Mission Accomplished" albatross hung on them.
Maximilian C. Forte writes in CounterPunch:
Since Colonel Gaddafi has lost his military hold in the war against NATO and the insurgents/rebels/new regime, numerous talking heads have taken to celebrating this war as a "success". They believe this is a "victory of the Libyan people" and that we should all be celebrating. Others proclaim victory for the "responsibility to protect," for "humanitarian interventionism," and condemn the "anti-imperialist left". Some of those who claim to be "revolutionaries," or believe they support the "Arab revolution," somehow find it possible to sideline NATO's role in the war, instead extolling the democratic virtues of the insurgents, glorifying their martyrdom, and magnifying their role until everything else is pushed from view. I wish to dissent from this circle of acclamation, and remind readers of the role of ideologically-motivated fabrications of "truth" that were used to justify, enable, enhance, and motivate the war against Libya—and to emphasize how damaging the practical effects of those myths have been to Libyans, and to all those who favoured peaceful, non-militarist solutions… >more here.
11×14 inch medium-res color .jpg image, 648kb