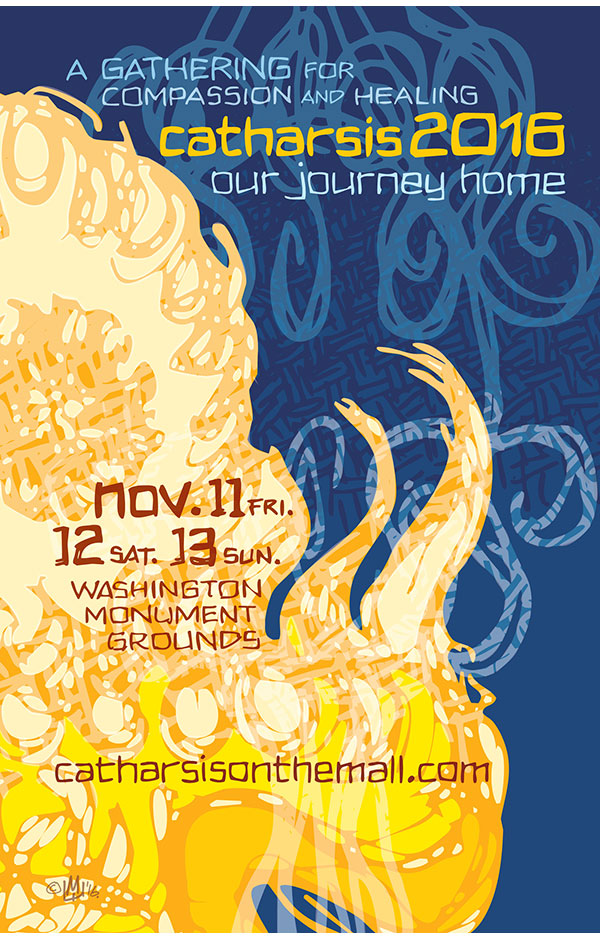 Soon it'll be time for our second Catharsis On The Mall, a gathering for compassion and healing, featuring art, speakers, music, and storytelling, culminating in the "temple burn" ceremony, the only such event officially permitted on the Mall.
Here's the details, from the Catharsis Web site:
Catharsis on the Mall's 2016 art theme is dedicated to those who have experienced traumatic stress and their journey home.

We experience traumatic events that displace our mind, fracture our lives, and violate our perceptions. One moment can cause such upheaval, that it might seem impossible to return to that safe place we once knew. When our lives are ripped asunder, and we are left to pick up the pieces and stitch them back together, the struggle to recenter and find yourself feels insurmountable.

Traumatic stress was written of in 760 BCE by the Greek poet Homer, in the Iliad and the Odyssey, and studied by the historian Herodotus in 490 BCE. It has been present in every war ever fought. It has been present in every community that experiences rape, brutality, oppression, and systematic violence. Violence and disaster can have lasting impacts on body and mind…

…We gather to celebrate wellness and reintegration. We gather for art and community. We gather to shake free from the stigmas of surviving. We gather to honor and support those who travel this road alongside us. We gather to end the silent suffering of millions. We are on the journey home together.
11×17 inch medium-res color .jpg image, 984kb
Special thanks to Michael Verdon for letting me crib off of his temple altar sketches.