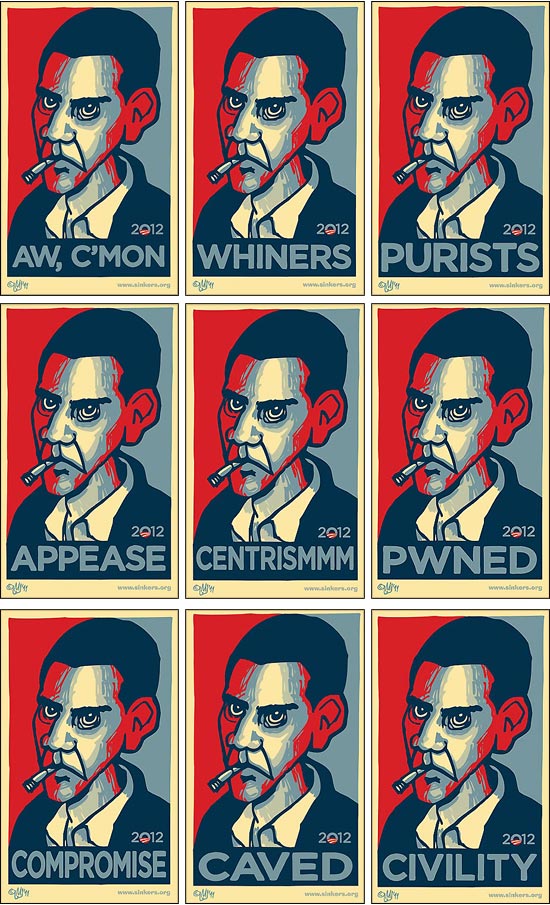 Happy New Year, gang, and it's getting to be that time again — that time when every major politician who's sociopathic enough to want to be El Presidente announces their intentions to run, kicking off the Presidential campaign season for the elections of 2012 — or, as any Democrat will tell you, The Most Important Election Since A Large Disk Of Dust And Proto-Planetary Matter Accumulated Around Our Sun.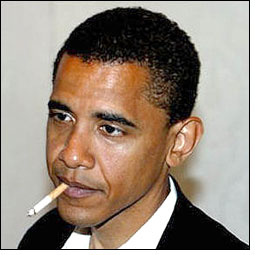 This time, though, there'll be a chance for all you betrayed, irate Lefties out there (or, "purists" and "whiners", as The Most Progressive President Ever might refer to you) to get the jump on all the Liberal appeasers, Fauxgressives and other assorted Democratic Kool-Aid drinkers out there with this suitably cynical and ironic set of images mocking Shepard Fairey's iconic 2008 "Hope" poster — available on T-shirts, stickers and fridge magnets, each in nine delicious flavors at the Cartoon Schwag Shop.
T-shirts, $25; 3×5″ stickers, single $4, 10-pack $30; 2×3″ fridge magnets, $5.
Downloadable images, 550 x 905 pixels, 72dpi jpeg:
"Aw, C'mon", 44kb | "Whiners", 48kb | "Purists", 68kb | "Appease", 68kb | "Centrism", 64kb | "Pwned", 68kb | "Compromise", 64kb | "Caved", 64kb | "Civility", 52kb