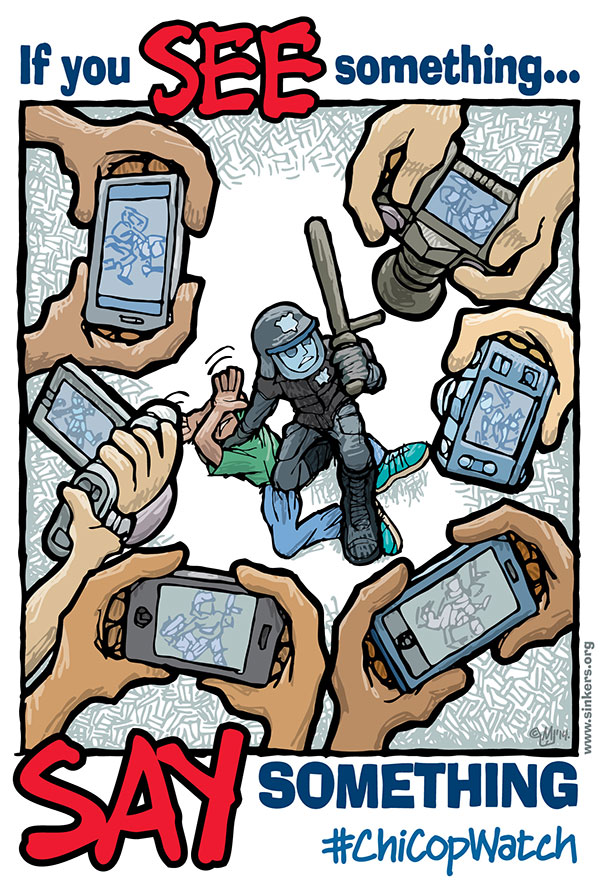 For the past couple of months now, it seems as if every day my Twitter feed is packed to the gills with horrific police brutality stories: cops gone wild like gangstas, tasering, beating, shooting children, disabled people, homeless people, old people — kittens, f'cripesake — and walking free in court even though they've been caught red-handed on video.
In the meantime, Liberals and Progressives are doing their level best to push gun control laws which disarm the citizenry, while the police are allowed to shoot, beat, and torture anyone they want, anytime they want, without fear of punishment. That's right, Liberals want to disarm the people, when the real danger of violence comes from the State. Cripes, what the hell is wrong with you people?
So how about it, Liberal America? When the hell are you dumb motherfuckers going to wise up and pitch a gun control law that disarms the State?
11×17 inch medium-res color .jpg image, 1.1mb
Chicago Cop Watch version, medium-res color .jpg image, 1.2mb
Chicago Cop Watch version, medium-res grayscale .jpg image, 672kb
NYC Cops Arrest Cyclist For Videotaping Interaction With Cellphone Following Red-Light Stop, The Gothamist, 05.02.14
Man With Down's Syndrome Beaten By San Diego Police For Walking Down Street, Free Thought Project, 05.03.14
6 NYC Cops Charged With DUI; 3 Of Them Shot At People, Free Thought Project, 05.04.14
Outcry Over Latest Fatal Shooting By Albuquerque Police, Al Jazeera America, 05.06.14