New Ukrainian Flag
By mike flugennock
Monday - April 18th, 2022
Categories:
Bidenism
,
Economy
,
media
,
war and peace
Tags:
Azov Battalion
,
Boeing
,
General Dynamics
,
General Electric
,
LockheedMartin
,
Military-Industrial Complex
,
Northrop Grumman
,
Raytheon
,
Right Sector
,
Ukraine
,
White Nationalism
,
Zelenskyy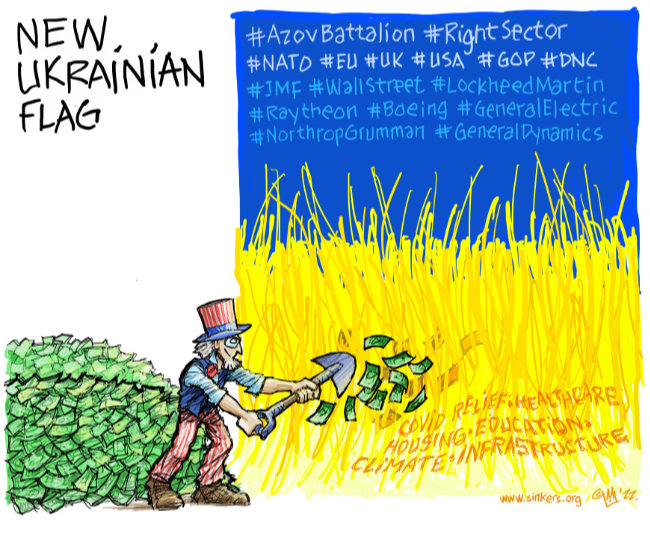 Take a look at this graph. Go on, kiddos — take a big, long, steamy gawk.
Same shit, different day: They can never afford housing, healthcare or education, but there's always money for war.
Getting a single, lousy-ass $1400 "stimulus check" out of those geezers on Capitol Hill was like pulling teeth. They never would extend unemployment or rent relief for the people still out of work because they were still in quarantine, or because the companies they worked for went under during the pandemic — and the bastards'n'bitches still refuse to discuss national healthcare despite this country being ravaged by a worldwide pandemic.
Whenever it comes to funding national healthcare, or free college, or subsidized housing, we have to have a "national conversation" about it, we can't afford it, we have to "make some hard choices". But, when it's time to fund the Pentagon? No prob, guys, here's $800bn. Wait, y'sure that's enough? How about an extra hundred billion big boys just in case?
Don't let anybody tell you whose war this is. It's not for the Ukrainian people, or Democracy, or freedom, or Western values, or any of that horseshit. It's Joe Biden's war, it's NATO's war, it's the EU's war, Boris Johnson's war, Emmanuel Macron's war, Olaf Scholz's war, the IMF's war, Wall Street's war, Boeing and Raytheon and Lockheed Martin's war.
12 x 15 inch medium-res color .jpg image, 899kb