"Poster Boy of Protest", in the Washington Post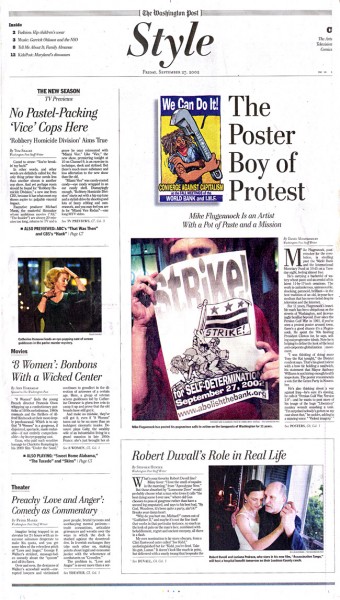 For a number of years in high school and college, one of my big dreams was to take over Herblock's job at the Washington Post — or, perhaps, to hit the front page in the Post's Style/Arts section. Needless to say, as my work took a more radical turn, I realized that my chances of making the Arts page — let alone becoming the successor to Herblock — were slim at the very best, and I got a little more realistic and focused my attention to creating cover cartoons for the Yipster Times or trying to break into High Times or Rolling Stone.
So, imagine my surprise when I found myself the subject of a front-page "personality profile"-type story appearing on the front page of the Post Style section a good twenty-odd years after my giving up on the idea of ever breaking into the Post at all. The Post had done a couple of previous Style profiles on local antiglob/antiwar movement figures, and apparently, now, it was my turn; it turns out that a certain Post reporter who'd been covering the local movements since Seattle had been a fan of my work for quite awhile, ever since it began appearing with regularity, wheatpasted on DC's streets beginning with the original "Blood For Oil" series during Iraq War I.
It was with a mixture of surprise and ironic glee, then, that I found myself and my work "writ large" on the front page of the lifestyle section of a major US city daily, getting top billing over — of all people — Catherine Deneuve (ooh la-la) and Robert Duvall. I was even more surprised to see myself getting an even-handed, quite positive treatment, as I was worried at how I'd be portrayed in print after seeing how the op-ed columnists were savaging the anti-globalization movements ever since Seattle/WTO and A16.
Story by David Montgomery; photographs by Andrea Bruce Woodall.
Adobe pdf file, 4.3mb