National Days of Action, April 2-4, 2018
Initiative 71 allows residents of and visitors to the District of Columbia to possess, grow, and give a limited amount of cannabis to other adults. However, the District, like many other states that have legalized cannabis, is preempted by Federal Law, and landlords who rent their properties can limit or prohibit a tenant's adult use of cannabis, even for medical purposes, on their property…
From a statement released by DCMJ:
"Initiative 71 allows residents of and visitors to the District of Columbia to possess, grow, and give a limited amount of cannabis to other adults. However, the District, like many other states that have legalized cannabis, is preempted by Federal Law, and landlords who rent their properties can limit or prohibit a tenant's adult use of cannabis, even for medical purposes, on their property. Individuals living in federal housing or public housing are restricted from using or cultivating cannabis on the premises, and can be evicted for doing so.
The U.S. Department of Housing and Urban Development (HUD) issued a memorandum in early 2011, clarifying that federal and state nondiscrimination laws do not require Public Housing Authorities (PHA) or owners of other federally assisted housing to accommodate the use of medical cannabis by current or prospective residents.
Presently, the Fair Housing Act, Americans with Disabilities Act, and Rehabilitation Actall expressly exclude illegal drug use, and a housing authority does not have a duty to reasonably accommodate a plaintiff's medical cannabis use."
Home Should Be A Safe Place
As long as cannabis is unfairly treated as a Schedule I substance under federal law, millions of Americans are at risk for eviction. This needs to end.
DCMJ is calling all cannabis crusaders to join us on Monday, April 2!
Organize rallies at your nearest public housing authority buildings to demand change!
Email HUD@dcmj.org or call the DCMJ HUD Hotline (202) 733-4640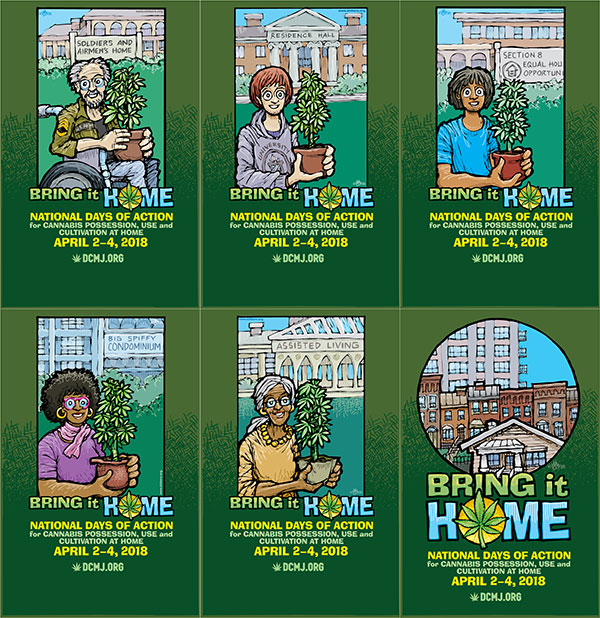 11 x 17 inch medium-res color .jpg images, approx 1.2mb each:
• Veterans
• Students
• Government-Subsidized Housing Residents
• Commercial Rental/Condo Residents
• Retirement/Assisted Living Residents
• "It's About Where You Live"
8.5 x 5.5 inch high-res 2-up leaflets on letter-size sheet, front and back, approx 3mb each:
• Veterans
• Students
• Government-Subsidized Housing Residents
• Commercial Rental/Condo Residents
• Retirement/Assisted Living Residents
• "It's About Where You Live"