In Search Of Legacy
By mike flugennock
Tuesday - November 11th, 2014
Categories:
Globalization
,
Iraq
,
Middle East
,
Obamarama
,
Party Animals
,
elections
,
media
Tags:
Asia
,
Democrats
,
legacy
,
Obama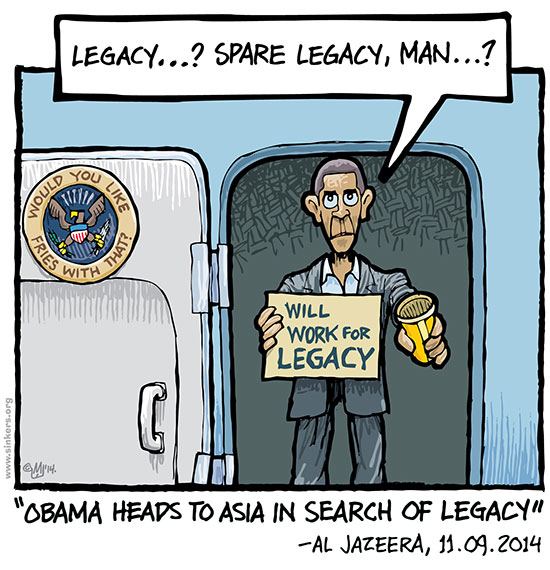 With the conclusion of the recent Dempocalypse, President Sparkle Pony is about as lame as a duck can get. In fact, he holds the record, having been a lame duck pretty much since he took office.
So, according to this recent report at Al Jazeera, he's jetting off to Asia trying to forget about the election and be all Presidential and statesmanlike n'shit, trying to beef up his "legacy", whatever the hell that means.
I don't know what he's so worried about; between the drone warfare, the shielding of war criminals, the climbing into bed with bankers, the corporate healthcare sweetheart deal, and the NSA, it looks like President Hope's got more legacy than he can shake a stick at.
13×13 inch medium-res color .jpg image, 706kb