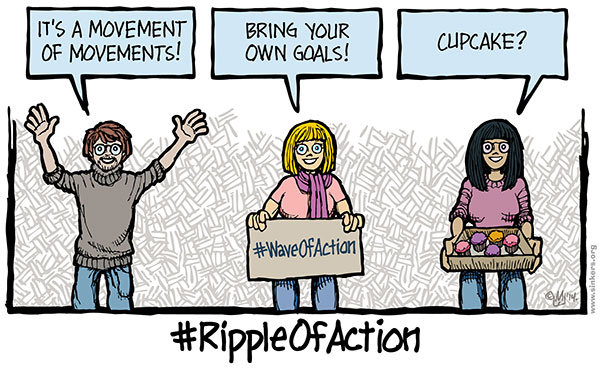 Apparently, some kind of Worldwide Wave Of Action started last week, billed as a rekindling of the Occupy movement. Having covered at least half a dozen previous "international days of action", my well-honed cynicism kicked into gear as I remembered how all the previous "worldwide" action days drew hundreds of thousands in cities outside the US — while inside the US, the turnouts could be generously described as pathetic.
The current "worldwide" Wave Of Action was no different, judging from what I was seeing on my Twitter feed. Cities in the UK and Europe turned out healthy numbers while in the meantime, in the US, I saw the usual sad smattering of thin, weak protests, with small veterans' contingents and others gathering in places like the NYC Vietnam War Memorial and Zucotti Park, only to be chased off or arrested by police.
I was also somewhat less than inspired by the vagueness of their rhetoric and sloganeering. On Twitter I saw pronouncements like "movement of movements" and "bring your own goals", with no mention of any specific issues, such as war and militarization, unemployment, state-enforced economic austerity, the destruction of civil liberties, or the US-instigated "revolution" in the Ukraine — just lots of lofty faux revolutionary hype and empty poetic slogans.
I won't speak for the rest of the world, but in the US, the "Wave Of Action" was more like a "ripple of action".
Oh, yeah — and, cupcakes.
11×17 inch medium-res color .jpg image, 950kb