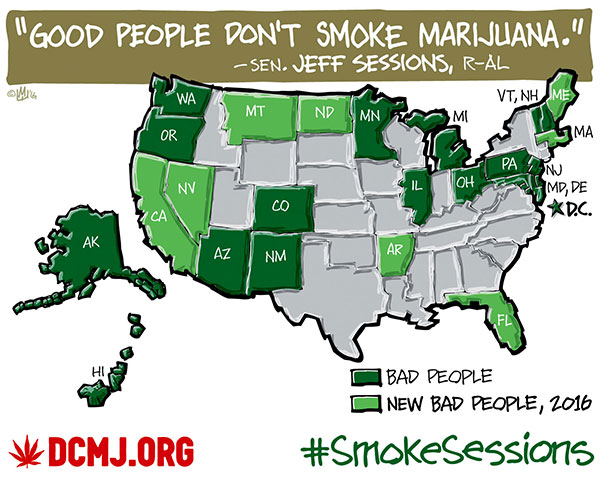 "Good people don't smoke marijuana."
– Sen. Jeff Sessions, R-AL, Trump AG nominee
So, roughly speaking, that'd be maybe 60 million people in at least half the states in the country that voted for the decriminalization or legalization of cannabis for recreational and/or medical use? Wow, that's a whole lot of bad people.
From the latest at dcmj.org:
Donald Trump has tapped one of the biggest prohibitionists in Congress to be the Attorney General of the United States: Alabama Senator Jeff Sessions. Earlier this year the Alabama Senator said "good people don't smoke marijuana," and while we don't know yet if he'll respect states rights (or DC's rights since we are not a state) or if he'll do what John Ashcroft did as George W. Bush's Attorney General: raid lawful cannabis grows, raid lawful dispensaries, and even go so far as crack down on paraphernalia vendors. Let's not forget why Tommy Chong went to jail and why history may repeat itself if we don't act NOW!
8.5 x 11 inch medium-res color .jpg image, 696kb