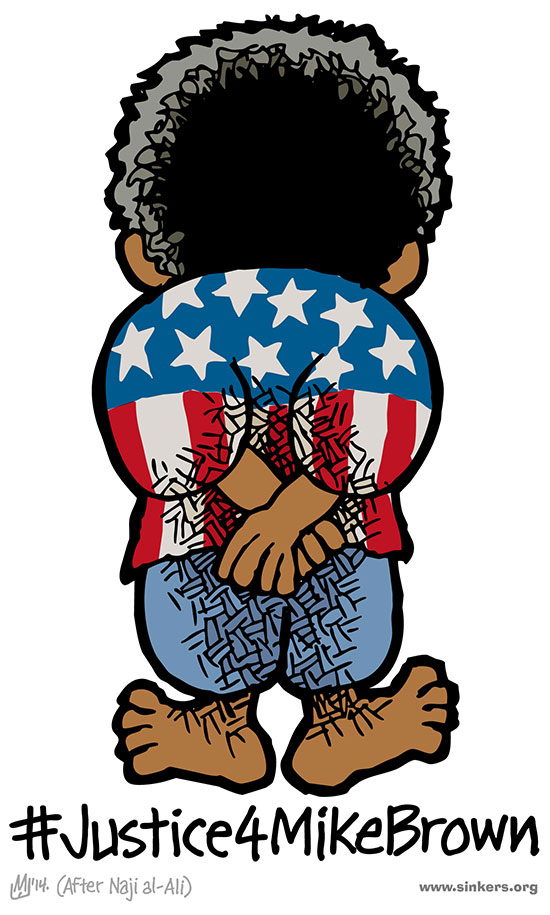 You'd have to be living in a cave to not see the clear parallels between the Israeli treatment of Palestinians — and Gazans in particular — and the police abuse and brutalization of poor black neighborhoods in the US. Poor black neighborhoods are occupied by militarized police who murder with impunity, collectively punish, threaten, harass and humiliate residents with tactics learned from the Israeli military. Tear gas, concussion grenades and other weapons used by police in towns like Ferguson, Missouri are manufactured by the same corporations which arm the Israeli military. It's no surprise that during the Ferguson Rebellion, Palestinians in Gaza provided residents of Ferguson with tips on street fighting and proper techniques for the handling of tear-gas grenades.
This cartoon is in honor of dissident Palestinian cartoonist Naji al-Ali — who was assassinated in 1987 — and his iconic Handala character, and is a call for solidarity between victims of US police brutality and Palestinians enduring the same kind of oppression at the hands of Israel.
11×17 inch color .jpg image, 576kb.